Tempane: Farmers Day Marked With A Call To End Bush Fire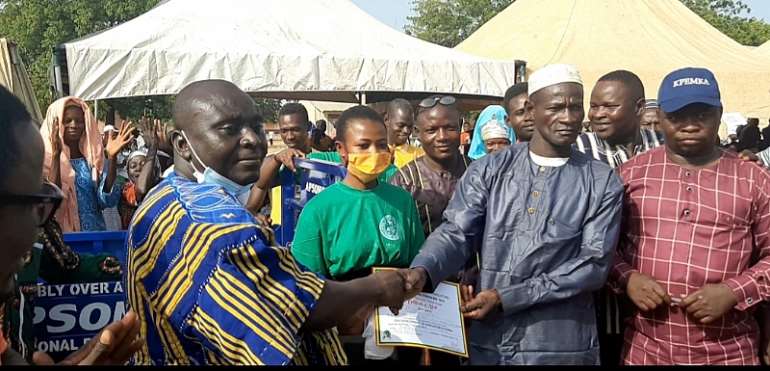 The District Chief Executive of Tempane District in the Upper East Region, Mr Paul Azumah Abugri has called on residents to desist from burning bushes or face the law enforcement agency.
Addressing hundreds of farmers in Tubueg, a farming community in Tempane to mark the 36th farmers day celebration, the DCE said bush fires affect the soil fertility by destroying organic matter in the soil and increasing leaching, wind and water erosion.
He said all these factors are affecting agriculture activities in the District.
Mr Abugri called on farmers and residents to desist from the indiscriminate felling of trees as the harmattan season sets in.
He appeals to residents to report anyone found offending the law to the law enforcement agencies for necessary actions to be taken.
During the celebration of the farmers day, 35 farmers were awarded.
The best physically challenged farmer went to Leibtiig Sambian Elijah.
He went home with Wellington boots, 1 cutlass, knapsack sprayer, raincoat, nose mask, hand gloves, 1 piece of sack and 1 bag of organic fertilizer.
The best female farmer went to Hawa Issah from Kugashegu, a farming community in the district.
She went home with a pair of Wellington, 1 pieces of cutlass, knapsack sprayer, rain coat, nose mask, hand gloves, 1 pics sack, half pieces of wax print and 1 bag organic fertiliser and a motor king.
The district overall best farmer when to Adamu Sule from Kpankpayoung community. He went home with a pair of Wellington boots, 1 piece of cutlass, nose mask, hand gloves, 1 pics sacks, 1 organic granular fertiliser, knapsack sprayer and a motor king.
The DCE Paul Azumah Abugri said the government of the NPP under the leadership of President Akufo-Addo, the sector ministry introduced a number of policies and programs to vigorously transform the sector.
He said under the Planting for Food and Jobs program, a number of farm inputs such as improved seeds and subsidized fertilizer were procured for farmers.
According to the DCE, 142,088 bags of NPK, 9100 bags of urea, 300 bags of improved maize seeds and 200 bags of rice were distributed to farmers in the area.
The National President of the Peasant Farmers Association of Ghana, Mohammed Abdul Rahman, said climate change is fast approaching and everyone must make sure the environment is secured.
He called on government to ban the importation of rice into the country to help the local farmers grow.
The Tempane District Director of MOFA, Mr Ibrahim Jamal-deen urged farmers to adapt climate smart farming practices to conform to the climate change situation.
He asks the farmers to use adaptation and mitigation capacities to cope with the variations in the weather pattern as witnessed this year with flooding in October.