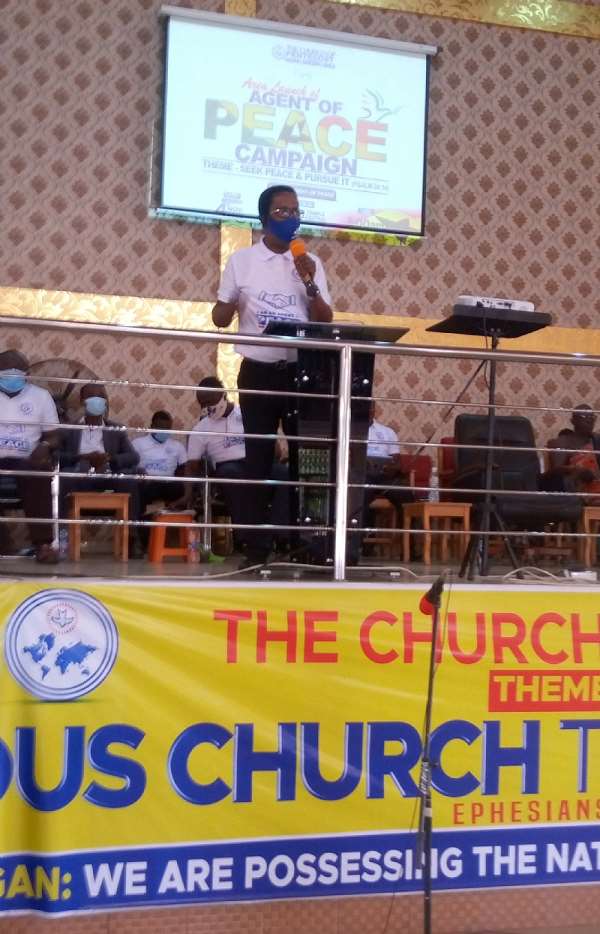 The Agona Swedru Area Church of Pentecost has in the Central Region has launched Agent of Peace Campaign ahead of the December 7 General Elections to sensitize Ghanaians to seek peace and pursue it in the wake of December 7 General Elections
Launching the Agent of Peace Campaign at Agona Swedru on Wednesday, the Agona Swedru Area Head of the Church, Apostle Derek Kwaning Mireku called on the electorates to be each other's keeper noting that peace ought to reign in the society
"The 'Agent of Peace' campaign is an initiative of The Church of Pentecost to educate and challenge Christians, especially members of the Church of Pentecost to become Agents of Peace during this year's Elections. The year 2020 is an election year in Ghana and all citizens will be required to vote for a President and Parliamentarians on December 7," he said.
He continued that as Christians, we are enjoined to be Peacemakers (Matt. 5:9) hence every believer is obligated to be an 'Agent of Peace' especially during this electioneering period
The man of God said the Church, in general, has generally considered political authority as an essential element of human society.
"Rightly handled, politics can play a positive role in God's purpose in this world. As citizens, we are, therefore, required to let the virtues of Peace and harmony permeate our thoughts, words, and actions. In particular, this campaign is a Clarion call for all Christians to be Agent of Peace"
Touching on Church Ministry and Leaders, Apostle Derek Kwaning Mireku note that Pastors and Church Leaders have great influence in their local churches and therefore, they need to be circumspect in their conduct and pronouncements during this election year
He cautioned Pastors and Church Leaders against the use of Church pulpits as a political platform to propagate their support for a particular Party or Candidate
"In the same vein, Pastors and Church Leaders should not use the pulpit to make insulting comments about a party or Candidate you do not like, as much as possible, keep your political persuasions private for the sake of the unity of your congregation"
On political tolerance, stability, and national development, Apostle Derek Kwaning Mireku noted that political tolerance may be described as a culture or a way of life of a people where individuals or groups of individuals belonging to or hold different views on politics either agree with or accept each other's, or agree to disagree on such views without resorting to verbal attacks, abuses or physical violence
"Political tolerance is essential in any democracy, it gives rise to a stable and peaceful society which is a prerequisite for national development. To enhance tolerance, the whole society has a role to play. The ruling government must avoid the tendency to use the state machinery to suppress or intimidate it political opponents or critics.
...The government must respect the view of the minority and the minority must also play its role as a shadow government in a constructive manner, keeping the government in line."
The national interest must always guide minority's criticism and scrutiny of government policies and programmes
Lastly, the citizens who constitute the followers of the Political Parties also have a part to play. We must tolerant each other's views, religious or ethnic background, and avoid attacks on each other"
Speaking on the Theme; Seek Peace and Pursue it, Apostle Derek Kwaning Mireku urged Christians in particular and Ghanaians as a whole to spearhead the peace campaign to sustain the peace and stability in the country.
The launch attracted religious and traditional leaders in Agona Swedru and its surrounding communities including Nana Atta Kofi, Regent of Woraba Estate a suburb of Agona Swedru, Pastor Emmanuel Kweku Appiah of the Church of Pentecost, Mahodwe District and Elder Akoi-Som, Swedru Area Deacon of the Church of Pentecost