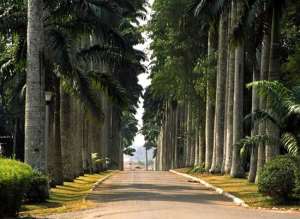 Aburi is Facing Climate Change Due to the Massive Land and House Development.
In order to Address this Issue, the Chiefs and Queen Mothers Should Require All Land and Home Owners to Plant 10 Trees.
Require the District Assembly to Require Land and Estate Developers to Set aside 10 percent of their land development to open bush or forestered Area.
This should be required in all Building Permits in addition to the 10 trees Requirements.
All main streets and market areas should plant trees to capture carbon pollution from cars.
The Minister of Roads must immediately demolish all buildings near steep hillsides and require massive planting of trees along the main roads of Aburi.
The Aburi kitase-Berekuso roads must be constructed with massive trees planting along the roadside.
All houses along the Kitase Berekuso road must be submitted to planting trees around and in front of their buildings as carbon sinks for the automobile emissions.