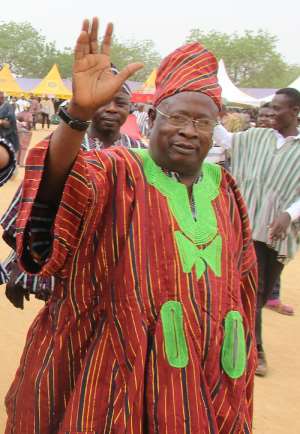 Hon. Cletus Apul Avoka, NDC parliamentary candidate
The campaign convoy of Hon. Cletus Apul Avoka, the NDC Parliamentary Candidate was yesterday attacked by four heavily armed men who robbed them of their belongings.
Hon. Cletus Apul Avoka and other members in the convoy who were a distance away from the robbery scene stopped and returned upon hearing the noise from the gunshots. They abandoned their vehicles and took to the heels to be able to meander their way through the bush to take cover.
The team was returning from their campaign programme on Thursday October 29 at about 10pm when the incident happened.
The Constituency Communications Officer of the NDC Atiah John Asanda told this reporter that the unfortunate incident occurred at Abuskologa when the PC and his campaign team were returning from their usual campaign tour of Gore, Tetako, Adagbera and Azuwera polling stations.
According to him, the campaign event entered the night as electorates were very eager to hear the rescue mission message from the veteran politician.
He noted that the campaign team finally got to Azuwera after 9pm to address a large crowd that had gathered there to welcome the PC.
According to him, they left Azuwera some few minutes past 10pm with the advance team of the convoy who were on motorbikes taking the lead.
Azoa Francis Mbabilla, one of the motor escorts told this reporter that they were stopped on their way by four gun-wielding men in police uniform at Abuskoliga near Zabzuaga in Kamega electoral area.
Mr Francis Mbabilla said the gunmen ordered them to lie flat on their bellies including a taxi they had stopped earlier.
According to him, the gunmen who are believed to be Fulanis searched everyone including two ladies and took away his Haojin motorbike, monies and mobile phones from them.
He added that the gunmen tried rapping the two ladies but were unsuccessful as the two ladies mounted strong resistance.
Mr Francis Mbabilla said one of the ladies pleaded with the gunmen for mercy indicating that she was menstruating.
He added that the second woman who was pregnant was spared but they however received several slaps.
An official complaint has been lodged at the Zebilla police command for the necessary action to be taken.
Like, subscribe and follow our photo reports here: