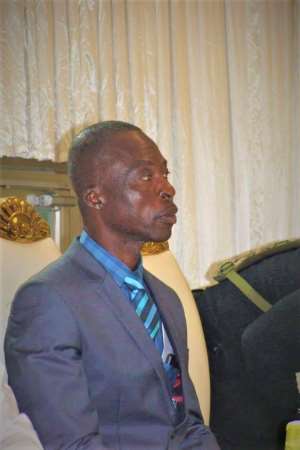 President Nana Akufo-Addo presented useless inferior 100 buses to STC at the cost of $13,000,000. The buses the president bought for the STC cannot meet the transportation standard as compared to Macopolo buses. I made this comparison because of the price involved. Macopolo is 100% far better than the Daewoo buses the president donated to the STC go get his political score.
The price per the donated bus should not be anything much than $100,000.00 and if you should multiply a $100,000.00 by 100 buses, you should not be getting anything much than the said $13,000000 mentioned.
With these buses, the national debt is going to shoot up because STC can not pay for the buses which would not be the STC company's fault because the buses are very very very inferior and useless. I know so very well that, the workers at STC aren't so happy about the buses donated but who are they to complain. If they do then their work will be at stake.
I can say assuredly that those purchased buses wouldn't last more than a year if they use it as how the other buses are used. These buses which were donated by the president to STC are just like a poultry farm chicken which can not be compared to the local breed that is the 'EFIE AKOKOR'.
If the government should give that huge sum of money to Katanka, I am pretty sure that Kantanka would produce better buses for STC and that would also add to job creation. I am a sad man now that some people have wasted the taxpayer's money on a product that would not last as the metro mass buses. On the other hand, I may say, figures were bloated to fill or satisfied an individual's account.
An investigation should be launched into this deal to let the good people of Ghana know well that this govt is not up to the task and they are just in to waste our precious taxes.
The buses in question can not go to Kumasi and back the same day. If it tries to go on a return journey the same day, i can guarantee you that within six months, those buses will be lying dead.
The engine might last for two years but what about the body? You know we are having competitors and when your buses are not in good shape I mean the body doesn't look attractive within a year the consumers taste of it will change. This is a competitive market we are talking about.
So spending this on a bus which will not last longer makes it useless. See this is the reason Ghana needs a change. It is better to buy a bus for a higher price which its body and engine will last more than expected.
Those buses were brought I guess a year ago and were packed somewhere only to be donated yesterday for political purposes. The right thing needs to be done.
I am of the view that it is a burden given to STC, not a blessing. STC has a task to take care of.
As the motorway was expensively constructed, you see it is still in existence while the one which was constructed from Adentan towards Dodowa is left to the mercies of the rain.
We should buy experience buses that would last for about say 20years and beyond.
The APC will provide 500 buses to STC within our 4yrs in power. A bus that would not be paid by our tax but rather will generate funds for itself.
Vote out this 'chop chop' government.
STC must be an independent company that should not be headed by any govt officials.
The APC govt will rebrand and expand STC to meet the stock market within six months in power.
Mr. Frank Yao Kuadey
Running Mate, All People's Congress (APC)