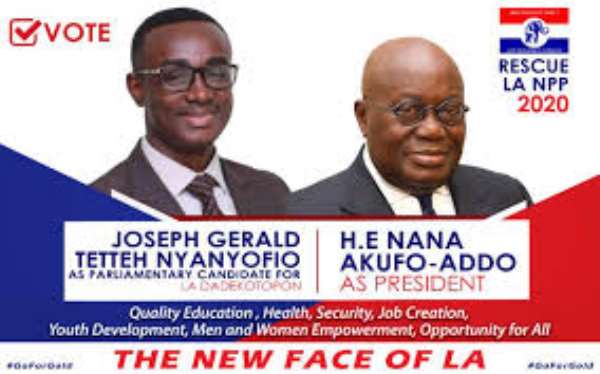 Pollster Ben Ephson has predicted doom for the governing New Patriotic Party's Parliamentary Candidate for La-Dadekotopon Constituency in the Greater Accra Region.
According to the pollster, the NPP will lose the seat to the main opposition National Democratic Congress (NDC) Parliamentary Candidate come December 7th.
The renowned pollster and Managing Editor of the Daily Dispatch newspaper made this disclosure speaking on Accra-based Angel FM's morning show hosted by Captain Smart.
'It is the hard truth that must be told the NPP going into the December 7th, elections he said.
He said research available point to the NPP's candidate, Joseph Gerald Tetteh Nyanofio, the United States-based lecturer losing the seat to the NDC's candidate.
The former Deputy Minister for Communications and Member of Parliament for La-Dadekotopon Constituency, Vincent Odotei Sowah lost the fiercely contested NPP primary to the current PC in a move that surprised many in the Constituency
He further mentioned that the seat of the Deputy Minister for Transport, Anthony Karbo, Lawra Constituency will also fall to the NDC's Biede Ziedeng.
He narrated how the Adenta Constituency seat also held by the NPP's Director of Communications, Yaw Buaben Asamoah will also fall to the NDC's Parliamentary Candidate, Ahmed Ramadam, who is a brother of the Second Lady, Samira Bawumia.
He revealed that no party will be able to win this year's elections by One million vote margins adding that this year apathy will set in.
He appealed to the elections management body, Electoral Commission to ensure voters wear their mask at the polling stations in accordance with the laws on safety protocols of COVID-19.
He was quick to call on the various political parties to make masks available to voters who intend to vote without a face mask.
"The parties should be able to make available some three million masks for distribution."
---CheckOutGhana