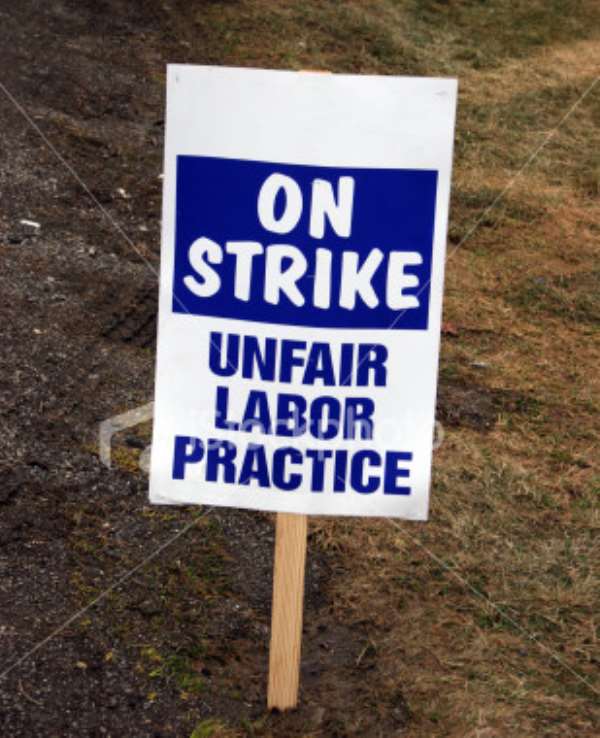 Since the insurgence of democracy in Ghana, there has been a growing mantra of power struggle between labour unions and governments, especially in election years. As to why it is so, well, nobody has to tell you. But is that a very healthy practice for a country which is really struggling for stabilization in many things?
From January to date, there has been countless strike actions and many threats of such actions. Technical Universities Teachers Association of Ghana (TUTAG) in January declared strike over what they say is the failure of the government to fully migrate them onto the single spine salary structure. Drivers of Aayalolo Bus Rapid Transit System had a sit-down strike in February protesting against their employers, the Greater Accra Passenger Transport Executive's (GAPTE), over unpaid salaries that have been in arrears for seven months.
Just recently, Ghana Registered Nurses and Midwifery Association laid down their working tools because they expressed displeasure with how their employer (government) was dealing with them. This are just a few of the many. Blatantly, the negative repercussions of these strike actions are very much visible to all. Whereas we can say, strikes have become a norm between employers and their employees especially that of government and its employees, the practice is gradually becoming a nuisance to national development.
It is a fact that employees will always demand from their employers more gratification towards the work they do. But does the employer which is the government of the day have the same commitment to satisfying employees the same way employees have committed to discharging their duties?
It is not surprising that the private sector is always millions of miles ahead of government subsidiaries in most cases because of the efficiency and reliability both parties complement each other with. It is very unfortunate to hear such ill-fated comments from government employees like "is the work for my father?", "how much am I being paid to kill myself for this work?" and many more. Where is the sense of nationalism this nation was built with? Where has the sense of citizenship and toil for motherland all disappeared to just after this few decades of gaining independence?
Many can attribute this to the simple fact that democracy as we have come to know it is about enriching ones purse and filling bloodline pockets once you reach the top. When leaders become the very things they were elected to check, what becomes then of the masses?
The limitations of employees in driving home their demands has forced many labour organizations to adopt this strategy of holding politicians at ransom anytime elections are near. To them, it is now or never as they are fully aware, once people get elected into whatever position they are desperately campaigning for, they tend to forget the masses whose votes privileged them into office in the first place. Once victory is declared, it is a matter of regaining the losses incurred as a result of electioneering expenses and profiteering.
The clear absence of a national agenda in the many sectors of the economy is also serving as a breeding ground for this cat and dog behaviour between the government and her employees. The more demands are made of leadership to draw a national development plan, the more unpopular and ridiculous the idea seems to them.
Going forward, whatever stakeholder consultations would be done to if possible migrate the National Labour Commission unto an independent status should be done before the next election arrives in the next four years because they always seem to be on the side of government regardless of the party in power.
Significantly, present and forthcoming governments should make it a point to stop this game of only doing things to win political favours as this is a recipe for underdevelopment. Imagine how this country would have been if developmental projects that get done in election year gets to happen more frequently. The ball is in our court, whatever we do with it, posterity is around the corner.
Elorm Kpedator
Teacher, Tokuroano M/A Primary A
Krachi East Municipal, Oti Region, Dambai