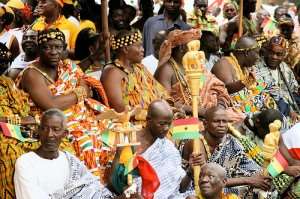 The article 277 of the 1992 constitution defines a 'chief' as "a person, who, hailing from the appropriate family and lineage, has been validly nominated, elected or selected and enstooled, enskinned or installed as a chief or queenmother in accordance with the relevant customary law and usage.
Chieftaincy practices have been more political in our contemporary society. A chief has their own fundamental rights as stipulated by the constitution (article 12, clause 1&2) as any other individual and persons. Albeit, being a leader comes with responsibilities - being able to give up on certain rights as an individual due to the authority you will. Like other leaders or any other leader, a chief relatively has influence on his people. Although we can renege the idea that the modern folks' decisions are not influenced as a result of a chief's enunciations, a chief's influence on his people cannot be overlooked.
The curators of the 1992 constitution knew why the clause 1 of the article 276 was enshrined in it. The content of this article did not emanate fortuitously, but rather came out deterministic considerations. Like every policy analyst, they (curators) understood why 'a chief shall not take part in active party politics" and why "any chief wishing to do so shall abdicate his stool or skin". The main ordeal here is chiefs endorsing political parties candidacies and the parties themselves.
If our noble chiefs care to know, and see no folly with their recent actions (,especially during election periods), it should be reinforced that endorsing political parties candidacies is participating in active politics like the average Ghanaian or folk they rule, and hence an obvious contravention of article 276, clause 1 of the Constitution.
The Constitution's interpretation that chiefs should not participate in party politics is not a suppression of individual rights, but a tool to foster unification and harmonious rule by chiefs among their people. What is a clan, tribe or ethnic group without unity because of their leader's (chief's) inability to be politically neutral? Chiefs should know that endorsing a particular political party creates mistrust among both ingroups and outgroups that do not share similar interest - simply, the fanatic dogma of politics is the main reason chiefs should not approve any political in their territorial traditional areas, and the different political membership of their subjects is also another factor.
Chiefs are not inhibited from sharing opinions on social issues or are not repressed in their comments on governmental policies, neither are they chastised for constructively criticizing policies by government, because the policies and social issues affect our lives in diverse mannerisms - doing these is not to favour any political party or government. Au contraire, it is rather to depict their patriotism to the nation.
Notwithstanding the above deductions, the National House of Chiefs (NHOC), which performs advisory functions to all chiefs aside their general research, judicial, administrative, and financial functions, has a part to play in bringing Chieftaincy politics to an end. The House should be interested and condemn such active party politics of their members for it reels diversity instead of oneness and makes the House infamous concurrently. The condemnation of such acts should be channeled through the Regional Houses of Chiefs and be dealt with to the roots since the 1992 constitution fails to provide sanctions.
In the Akan local dialect, they say "Ohene anaa odehye nnidi bedwa mu" (transliterated as "A chief or royal does not eat in public"). If such is the case, then it is utterly fallacious and hypocritical at the same time for chiefs to publicly declare their support for or endorse a political party or political parties. Our traditional chiefs they say are the custodian of the laws, and with this fact, should not advertently disrespect the provisions of the 1992 constitution.
If we as individuals fail to acknowledge these facts, then maybe, just maybe, the paragraph (c) of clause (3) of the article 94 and the clause (1) of the article 276 of our constitution should be repealed in the future.
Regards,
Yours In Service,
Kojo Mintah-Nuamah.