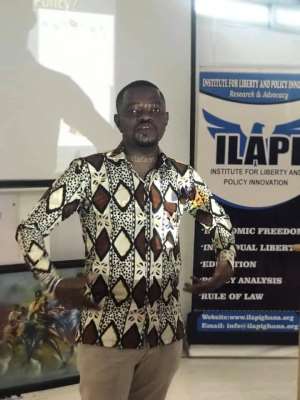 Founder and Lead Management Consultant Dr. Ike Tandoh, says that politicians are emotional laborers. He made this statement when he spoke to 2020 African Journalists For Economic Opportunity Training (AJEOT) participants on Public Policy Communication.
According to him, politicians only air their views anyhow on the various media outlets. "Politicians being emotional laborers give birth at any place and everywhere they find themselves".
He posited, "politicians are not doing political communication as expected of them, simply because they allow their emotions to cloud their minds.
He also discussed with participants the path chosen to write specifically on the proper political communications to follow.
This he said, will help advance the course of communication as advocates, journalists, PR practitioners, and think tank policy analysts.
The Institute of Liberty and Policy Innovation (ILAPI), a free-market policy think tank trained journalists, advocates, and young policy analysts through its 4th workshop program; African Journalists For Economic Opportunity Training (AJEOT).
The two - three-day intensive residential training which took place at the Summit Lodge in Koforidua had only participants in Ghana. This was as a result of the Covid-19 pandemic.