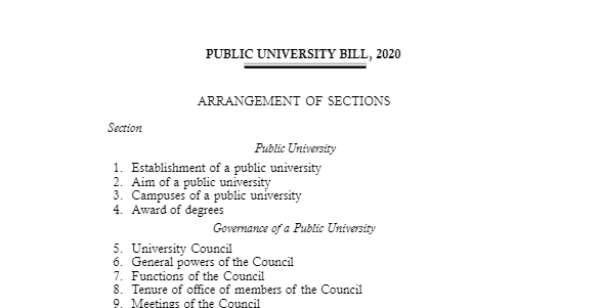 Consideration of the Public Universities Bill in Parliament is put on hold.
This was disclosed by the Ranking Member on the Education Committee of Parliament, Peter Nortsu Kotoe.
In an interview with Citi News, the Akatsi North MP said the Bill is not part of the Bills being considered before Parliament goes on recess in the coming weeks.
According to him, the Education Committee of Parliament had recommended that there was a need for further deliberations to be held before the Bill is considered.
Mr. Nortsu-Kotoe said the Committee received a number of petitions kicking against the passage of the Bill hence its recommendation.
"The Committee on Education looked at the Public Universities Bill, and we recommended that in the view of the criticisms and the number of petitions that we have received, it will be better for the government to hold on with the passing of the Bill because there is the need for greater consultation. So it will not feature for the Bills we are considering for this meeting of Parliament."
"I have already maintained that, that bill was not necessary because it was going to interfere with the freedom of the academic freedom of universities," the MP noted.
About the Public Universities Bill
According to the framers of the Public Universities Bill, it seeks to harmonize the finances, administration and governance structure of public universities.
The Bill, when passed, will give the government power to appoint the majority of members of the University Council.
The Council then has the power to appoint and fire public university officials.
The Bill also gives the President the power to dissolve the University Council which will now have the power to appoint a chancellor.
It also gives effect to the University Council to control the finances of the university and determine the allocation of funds.
In addition, there is a proposal to rename four public universities after various personalities.
Critics
The Bill has generated controversy in the country with various stakeholders within the education sector calling on government to withdraw it due to some clauses deemed problematic and likely to interfere with academic freedom.
The flagbearer of the opposition National Democratic Congress (NDC), John Dramani Mahama, has said if he wins the December 7 polls, he will scrap the Bill if it is passed into law.
"Government must listen to the concerns of key stakeholders and withdraw the Public Universities Bill," Mahama urged in a statement.
"I want to, however, assure the people of Ghana and the academic community that should government proceed and pass the Bill into an Act of Parliament, I will not hesitate to initiate steps for its immediate repeal, as a matter of priority, if God willing I assume office as President in January 2021," he said.
The NDC's flagbearer insists that "The Bill, as it stands, does not only risk undermining academic innovation and ingenuity; it will also jettison decades of scholarly excellence and adversely affect Ghana's position as the preferred destination for international scholarly collaboration."
---citinewsroom
Like, subscribe and follow our photo reports here: