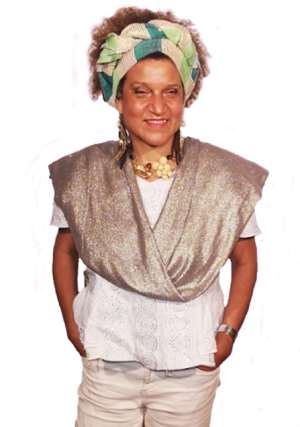 Toronto (ON) – Award-winning director Frances-Anne Solomon will now be a part of the elite group reviewing candidates for an invitation to join the Academy of Motion Picture Arts and Sciences, the organization responsible for the Oscars.
Solomon received the news this week that she had been selected for the Directors Branch Executive Committee in an email from Academy Governors Susanne Bier, Ava DuVernay, Rodrigo Garcia and Steven Spielberg stating, "You were selected to serve because we and our branch members consider you to be a thoughtful, creative and innovative representative for the branch."
The Canadian-Trinidadian director, whose recent film Hero: Inspired by the Extraordinary Life and Times of Mr. Ulric Cross opened this year's Pan African Film Festival in Los Angeles, was invited to join the Academy last year. While in LA promoting Hero, Solomon attended the Academy Awards Ceremony and the Governor's Ball for the first time. "It was a wonderful experience to see a show I've watched on television for so many years unfold right before my eyes," remarked Solomon. "And now being a part of the Directors Branch Executive Committee where my voice will be heard and valued in the film community is an honour."
Last year, Solomon was one of 842 new invitees, half of them – women, and one third people of colour - in a move to improve the diversity of the Academy voters.  This year, for the first time, all members of the Academy branch executive committees will be asked to participate in a conversation about equity and inclusion as part of the Academy's Aperture 2025 initiative. Solomon's committee term is for one year; however, members may serve on an executive committee for up to six consecutive years.
CaribbeanTales Media Group (CTMG) is a multi-faceted group of media companies that produces, markets, and sells culturally diverse film and television content from the Caribbean and its wide Diaspora. Founded by award-winning filmmaker, and Academy Member Frances-Anne Solomon, CTMG includes: CaribbeanTales Inc a registered Canadian Charity, CaribbeanTales Worldwide Distribution, a film distribution entity, CaribbeanTales International Film Festival, now celebrating 15 years; Caribbeantales-TV, a VOD streaming service; the Creatives of Colour Incubator, a year-round development and production hub, and CaribbeanTalesFlix, its production arm.
In 2014, Frances-Anne Solomon founded CineFAM, to amplify the voices of women of colour creators worldwide - that now includes an annual film festival, a film challenge, and an incubator.
2020 sees the launch of the inaugural Windrush Caribbean Film Festival, a UK-based charity co-founded by CaribbeanTales-UK and many amazing local organizations.
Recent award-winning CTMG productions include HERO - Inspired by the Extraordinary Life & Times of Mr. Ulric Cross by Solomon (Trinidad&Tobago/Canada 2019);  Caribbean Girl NYC by Mariette Monpierre (Guadeloupe/Canada 2016);  Battledream Chronicle - A New Beginning, by Alain Bidard (Martinique/Canada 2016); and Kingston Paradise by Mary Wells (Jamaica/Canada 2014).