Using hibiscus as a treatment modality for lowering blood pressure has been fairly well studied. In 1999, a study by Faraji, et al demonstrates that when compared to drinking regular tea, research shows that hibiscus tea lowered systolic blood pressure (SBP) by 11.2% and diastolic blood pressure (DBP) by 10.8%, while regular tea drinkers only had a 4% decrease is SBP and a 3.6% decrease in DBP. Several studies have found it to lower blood pressure significantly, even in patients with certain health conditions that increase the risk of high blood pressure.
A 2013 review conducted by Hopkins et al at the University of Arizona revealed that hibiscus tea is used in 10 or more countries as normal treatment for hypertension without any reported adverse events or side effects — except in extremely high doses. McKay et al 2009 is of the view that hibiscus tea can lower blood pressure in prehypertensive and mildly hypertensive animal and human models. Also, Serban et al 2015 meta-analysis of randomized controlled trials demonstrates a significant effect of Hibiscus Tea in lowering both systolic blood pressure and diastolic blood pressure with 95% confidence interval. Hibiscus Tea drinking is not only limited to lowering blood pressure but these results extend to diabetic patients.
One Lab study conducted at KNUST, Kumasi, Ghana, on one brand, Nyarkotey Hibiscus Tea on efficacy showed the Herbal Tea produced dose-dependent reduction in the arterial blood pressure of the anaesthetized cat comparable to acetylcholine. The depressor effects of acetylcholine and Dr. Nyarkotey Herbal tea on the blood pressure of the anaesthetized cat were inhibited by 72.3+5.21% and 55.6 + 6.82% respectively, suggestive of muscarinic mediation. The remarks states that, as per the findings, Dr. Nyarkotey Herbal Tea has hypotension effect and hence could be used in the management of hypertension. The No-Observable-Adverse-Effect level (OAEL) is greater than five times the stated daily dosage (7.0ml/kg) indicated by the manufacturer.
Hibiscus Tea also beat Black Tea for blood Pressure lowering

In 2009, Mozaffari-Khosravi et al study compares the antihypertensive effectiveness of sour tea (ST; Hibiscus sabdariffa) with black tea (BT) infusion in diabetic patients. The study concludes that consuming hibiscus Tea had positive effects on Blood pressure in type II diabetic patients with mild hypertension. This study supports the results of similar studies in which antihypertensive effects have been shown for hibiscus Tea.
Hibiscus Tea also beat Green Tea for blood pressure lowering
A study in 2013 by Mozaffari-Khosravi et al demonstrates that the therapeutic effectiveness of Hibiscus Tea and Green Tea drinking by the end of intervention was 43.5% in the hibiscus Tea group and 39.6% in the Green Tea compared to the beginning.
Hibiscus Tea and conventional drugs for lowering blood Pressure.
A study in Nigeria by Nwachukwu et al 2015 discovered hibiscus tea to be more effective than hydrochlorothiazide, a common blood-pressure lowering medication, at decreasing blood pressure. The most significant finding was that hibiscus tea, unlike its study counterpart, hydrochlorothiazide, did not cause electrolyte imbalance. The study had this to say: "Hibiscus Tea(Natural medicine drug) was a more effective antihypertensive agent than HCTZ(conventional medicine drug) in mild to moderate hypertensive Nigerians and did not cause electrolyte imbalance.
Another study by Herrera-Arellano et al 2004, studied head to head with one of the most common pharmaceutical interventions for the treatment of hypertension, Captopril, an ACE inhibitor. In this study, individuals were either given daily hibiscus tea or 25 mg of Captopril twice per day. The results showed that the hibiscus tea and the Captopril had no significant difference in hypotensive effects, meaning that both the standard pharmaceutical and the hibiscus tea worked equally well in lowering the participants' blood pressure!
A 2015 study conducted by Soleimani et al also evaluate effect of sour tea pill containing the herb's extract versus captopril on the treatment of hypertension. The authors had this to say: "According to the effect of sour tea pill on decreasing blood pressure, without giving priority over captopril, sour tea pill containing the herb's extract can be prescribed as an adjuvant therapy for lowering the prescribed dosage of captopril". No side effect was observed in the sour tea pill group in the study.
Can Hibiscus Tea be combine with conventional hypertensive drugs?
Nurfaradilla et al 2019 had this say: "Hibiscus sabdariffa aqueous extract alone can reduce blood pressure. This extract appears could be used as a supplement with captopril but may not provide any additional benefit". In a more 2020 study, Nurfaradilla et al took a different perspective and indicated that coadministration of H. sabdariffa L. aqueous extract could change the pharmacokinetic profile of captopril; therefore, its coadministration should be avoided.
Take Home:
Hibiscus Tea is in the same standard as compared to conventional drugs for lowering blood pressure from research studies (Herrera-Arellano et al 2004, Nwachukwu et al 2015, Soleimani et al 2015 , Nurfaradilla et al 2019 and Nurfaradilla et al 2020)
Hibiscus Tea tops all teas for health issues (Carlsen et 2010)
The fact that hibiscus is just as effective as an ACE inhibitor in lowering blood pressure is staggering. Considering the prevalence of high blood pressure and the health conditions associated with hypertension, we should all be utilizing the benefits of hibiscus. And the truth is, the benefits of this incredible flower extend far beyond their hypotensive effect.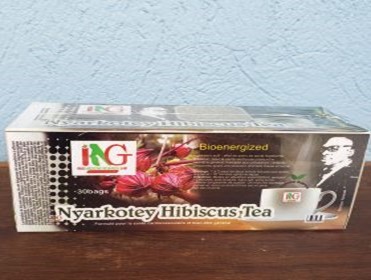 DISCLAIMER This post is for enlightenment purposes only and should not be used as a replacement for professional diagnosis and treatments. Remember to always consult your healthcare provider before making any health-related decisions or for counselling, guidance and treatment about a specific medical condition.
NB: The writer is on a mission to provide you and your family with the highest quality nutrition tips, scientific herbs and healthy recipes in the world.
The writer is an honorary Professor of Holistic Medicine-Vinnytsia State Pedagogical University, Ukraine, president, Nyarkotey College of Holistic Medicine and currently, LLB law/MBA Student. He is the formulator of FDA approved Nyarkotey Hibiscus Tea for Cardiovascular Support and wellness, Men's Formula for Prostate Health and Women's Formula for wellness. Contact: 0241083423/0541234556