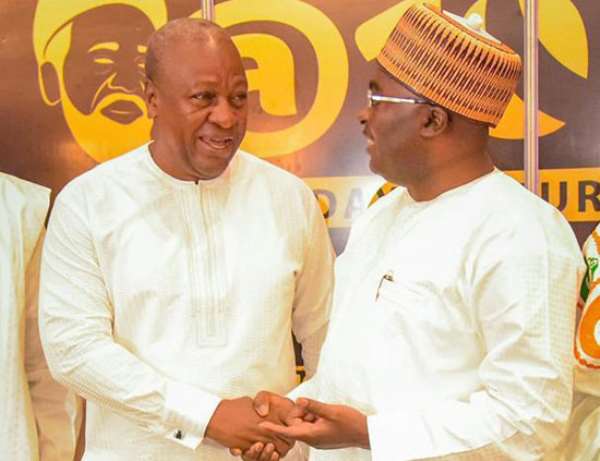 Vice President Dr. Mahamudu Bawumia (right) and John Mahama (left)
The Vice President, Dr. Mahamudu Bawumia has detailed projects executed by the NPP government within four years in power.
This is a response to former President John Mahama that the NPP government has done nothing with the loans acquired from the last four years.
Responding to John Mahama, Dr. Bawumia has detailed various projects that the NPP government has undertaken since assuming power in 2016.
According to Dr Bawumia, the NPP government has invested in 18,891 projects across all 260 districts of which 10,153 have been completed while 8,738 are still ongoing.
On his Facebook page, Dr. Bawumia wrote that, "The former president John Mahama recently asked what the Government of the NPP has used the monies it has borrowed during its term for. I will provide the former president with some answers and only ask that he takes his time to read"
"I note that the former president himself had answered his own question in the video clip below: I will nonetheless provide some information for the education of the former president."
"It is clear that the NPP government has not used the monies borrowed to invest in guinea fowls that subsequently flew to Burkina Faso."
---Daily Guide