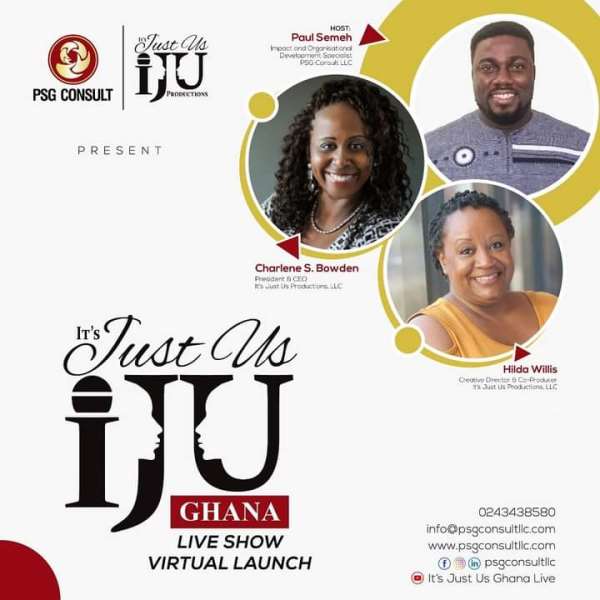 It's Just Us Ghana Live Show is that movement which is co-produced by It's Just Us Productions, LLC and PSG Consult that seeks to honour the rich cultural diversity and contributions of Africans on the continent and in the Diaspora to synergize and transform others by telling our own authentic and inspiring stories.
The IJU Ghana show also has a key movement which was started by our ancestors to promote intercommunication, socioeconomic development and to help the "lost" diaspora find a connection to their roots.
Speaking at the launch the Chief Executive Officer (CEO) IJU Production, Charlene S. Bowden said, "it's just Us Productions wanted that exchange between Africans and the Diaspora but I didn't know-how. They were looking for what is called an African voice. A voice, which could shape its own inspiring stories in the best way it can".
IJU Productions, LLC: The pilot is an international media exchange that will honour the rich culture and contributions of both the African and African American experience. An exchange that creates higher awareness, education and sustainability.
"We see this happening through creating pilot radio programming which expands our voice, our power, and the reach of our people. We recognize the potential for this to be a very successful partnership and a game-changer in how we support each other, acknowledge strengths and bring healing", she said.
Hilda Willis, Creative Director and Co-producer IJU Production noted that "True to the vision of future where positive ideas can contribute profitably and meaningfully to world basket of relief and happiness, this program is initiated to give opportunities to Impact-preneurs and would-be impact-preneurs to inspire and be inspired to create or grow ideas and continue to implement ideas that can change the world a better place for all".
According to her, IJU Ghana Live believes that we got to where we are now as Africans, not because of something we initiated in the world but through something we are planted in – our stories, our culture and ethnicity.
"As Africans, we need to embrace our own. We need to tell our inspiring stories to the current generation and the generations to come.
"Africans are made of the same elements in the land we come from," she said.
Paul Semeh, Impact and Organizational Development Specialist (PSG Consult LLC) and the host of the show said the time has come for Africans at home and Africans in the diaspora to connect and unite as one people because living away from home has created disconnection.
"Paul Semeh: This is a great idea because now the world seems to be in a dark place right with COVID-19 pandemic almost shutting the world economy and social life".
"But in this dark place that we seem not to have an end, it is in this very spot we need to find the need to look inward to find light no matter how dim, when we look closely we will find little lights that are scattered all in this darkness. When we do, we need to put a spotlight on them to make them shine".