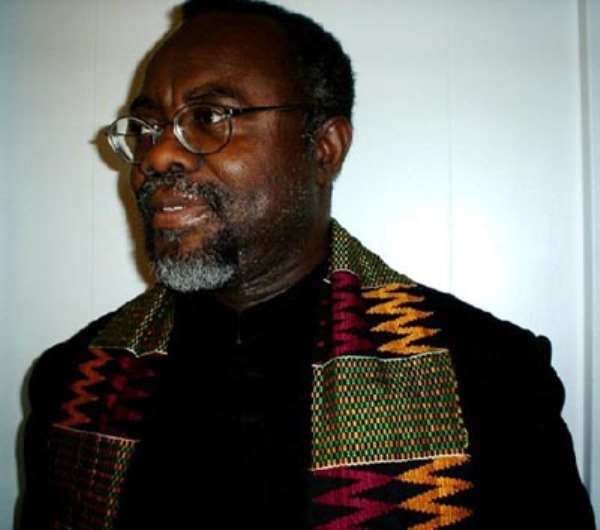 I have been faintly following the contempt of court lawsuit brought against the vociferous New Patriotic Party's Member of Parliament for Assin-Central, Central Region, by one Mr. Sulemana Issifu, who is alleged to have asserted that the intemperate language reportedly used by the notoriously rambunctious Mr. Kennedy Ohene Agyapong against a justice of the High Court of Ghana, presiding over a disputed land case, represented a "monumental impunity against the courts," that is, the country's judicial system (See "AG Directed to Handle Ken Agyapong's Suit Against Judge in Contempt Case" Modernghana.com 10/13/20).
Yes, I have been "faintly" following this case because I have also been deeply engaged in my full-time professional activities as a State University of New York (SUNY) associate professor of English and literature, as I studiously ought to. What is more, in a major election year, both right here in the United States of America and the Sovereign Democratic Republic of Ghana, as well, I find it increasingly imperative to employ any free time, which is very limited, that I can afford to invest in the "community service" component of my professional development trajectory to the greater benefit of our proverbial global village at large. Which is not necessarily to imply that issues verging on individual interests, such as those of the firebrand philanthropy-oriented Assin-Central New Patriotic Party parliamentarian are devoid of a remarkable communal edge.
Now, if, indeed, it is accurate that Mr. Agyapong, "street-fashion," used such boorish invectives as "You are a stupid judge. I will face you. I am not Anas [Aremeyaw Anas] to take bribes from you. I will deal with you," then, of course, this "flame-thrower" needs to be promptly sanctioned or brought to book (See "Ken Agyapong Asks Supreme Court to Halt Contempt Case Against Him" Ghanaweb.com 10/18/20). I have said it before – especially in the wake of the brutal slaying of Anas associate Mr. Ahmed Suale – that the egregious public misbehavior and/or gross public deportment of Mr. Agyapong would not the least bit be tolerated here in the United States of America, where the accused contemnor has lived, worked and schooled for decades and continues to make his second home even as I write.
Here in the United States, Mr. Agyapong would have since long been expelled from Congress or the Lower-House of Congress, that is, the House of Representatives, for such insufferable display of offensively antisocial behavior. As it stands, it can scarcely be gainsaid that while he has been of phenomenal significance to the interests and aspirations of the ruling New Patriotic Party, nevertheless, Mr. Agyapong's brazen and diarrheal public misbehavior has put an unnecessarily costly strain on the government. He is emotionally like the twin brother of Candidate John "Airbus-Kanazoe" Dramani Mahama who refuses to grow up and mature into a decent and socially responsible young man. These two neighborhood bullies may very well keep screaming and kicking against all the rules of societal decorum all the way to the cemetery someday.
Indeed, so stressful and abhorrent has Mr. Agyapong's misbehavior become that even some key operatives of the New Patriotic Party have quietly been wondering whether having the seemingly obstreperously garrulous lawmaker and indomitable party bigwig, nonetheless, as their striker, in soccer parlance, was such a good idea, after all. But, of course, I am also wondering what the plaintiff in the contempt suit against Mr. Agyapong, Mr. Sulemana Issifu, had thought about the flagrant and decidedly extralegal and downright vigilante use by the then President John "Airbus-Embraer" Dramani Mahama of the privately owned and operated Tiger-Eye Limited Liability Company to set up a string of sting operations against members of our judiciary or juridical establishment at a cost to the Ghanaian taxpayer that has never been disclosed. Was this any far less of a "monumental impunity against the courts" and less institutionally destructive or threatening than the accusations and charges for which Mr. Kennedy Ohene Agyapong stands accused?
I would as well also not say that Mr. Agyapong's recent anti-corruption and "anti-sin" crusade against some mercenary leaders and proprietors of the so-called one-person churches was not exactly laudable; but even here also, the glaring legal excesses could not be cavalierly glossed over. You see, it is just a matter of time, as the immortalized African-American Civil and Human Rights Leader, Malcom X, has famously or infamously been quoted to have once critically observed: sooner than later, the chickens do come flying home from Ouagadougou – my profound apologies to Little Dramani.
Indeed, not quite long ago, the Assin-Central legislator publicly announced that he was poised to quitting active partisan politics altogether for good. This was shortly after Mr. Agyapong had been hauled before the Parliamentary Privileges Committee for having conducted himself in a manner that was widely deemed to be unbecoming of a Gentleman of the august House, involving another bone fide Member of the august House from the main opposition National Democratic Congress. If one may humbly ask: Akompreko Agyapong, just whatever happened to this public pledge or promise of yours?
*Visit my blog at: KwameOkoampaAhoofeJr
By Kwame Okoampa-Ahoofe, Jr., PhD
English Department, SUNY-Nassau
Garden City, New York
October 17, 2020
E-mail: [email protected]