Israeli Green Innovation Competition Opens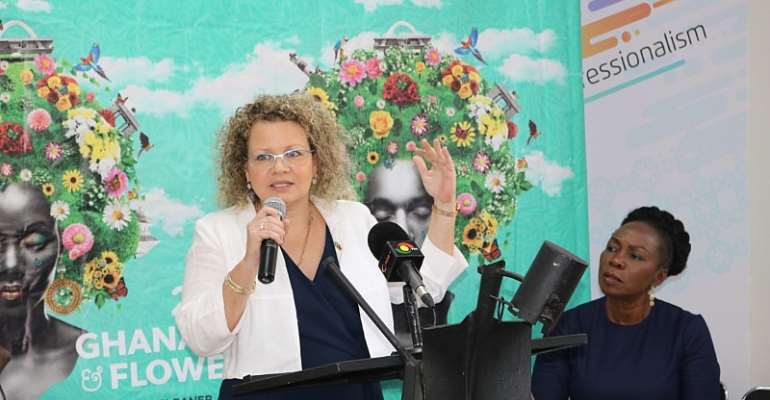 Accra, October 14, 2020 - The second Israeli Green Innovation Competition (IGIC) which seeks to honor individuals and organizations that come up with innovative solutions to promote environmental conservation and agriculture in Ghana, has officially begun.
The Green Innovation Competition focuses on innovative startups in the agriculture and horticulture sector which is in line with Israel's commitment to stimulate both agriculture and innovation in Ghana. It is open to young Ghanaian startupists (aged 15-40) who have an already existing, innovative initiative that contributes to the growth of the floriculture industry.
The winner of this year's competition will receive a fully paid trip to Israel to participate in industry related conferences to learn best practices, to network and to seek potential investors to expand their existing business.
The competition is being undertaken by the Israeli Embassy in collaboration with the Ghana Garden and Flower Show, an initiative of Strategic Communications Africa Limited (Stratcomm Africa). The final selection and award ceremony will be held on the last day of the 2020 Virtual Ghana Garden and Flower Show (GGFS) on 8th November, streaming live on the GGFS website http://stratcomm-africa.com/gfs/
Israel prides itself as a nation of innovation that helps to stimulate innovation wherever it finds itself.
Israeli Ambassador to Ghana Shani Cooper expressed excitement about the second edition of the show, saying, "We are delighted that through this show we are about unearthing new solutions to enhance agriculture and the environment, the Israeli embassy will continue to support innovative ideas in our quest to see an improved agriculture system and the environment."
Chief Executive Officer of Stratcomm Africa organizers of the Ghana Garden and Flower Show (GGFS) Ms. Esther A.N. Cobbah indicated that due to the corona pandemic, the company had to resort to a virtual show. She called on all stakeholders to continue their efforts in helping keep a cleaner, greener, healthier and a wealthier Ghana.
Individuals or organizations with interest on entering into this year's competition would have to follow these simple steps.
• Record a 90-second long video presenting your prototype detailing all the essential information about your idea
• Upload your video on your Facebook account tagging the Israel Embassy Ghana @IsraelinGhana
• Share the URL to the video on the Registration Section of Competition Website aloing with a 150-word profile of yourself of organization
Ten qualifying participants will be selected from the entries for the final pitch. Then these 10 finalists will be hosted by the competition judges on 8th November 2020 at the closing ceremony of the 2020 Virtual Ghana Garden and Flower Show, to do a 3-minute prototype presentation of their solutions.
Registration is opened form now till 23rd October 2020; hence individuals are encouraged to send their entries to stand the chance of being crowned for innovation and also acquire valuable skills to help scale up your business initiative.
About Israeli Green Innovation Competition
The Israeli Green Innovation Awards is a new award scheme introduced at this year's Ghana Garden and Flower Show. It seeks to honor startups that come up with innovative ideas related to the growth of the floriculture and agriculture industry in Ghana. Israel prides itself as a nation of innovation that helps to stimulate innovation wherever it finds itself. Israel is also well acknowledged for its advancements in agriculture, including floriculture.
The Embassy of the State of Israel in Ghana is committed to contributing to the realization of Ghana's development agenda. The introduction of this award scheme is intended to help stimulate participation in Ghana's floriculture and agriculture industry, particularly by the youth.
About Ghana Garden and Flower Show
The Ghana Garden and Flower Show is a flagship activity of the innovative Ghana Garden and Flower Movement that was initiated with the first edition of the Show in August 2013. The Movement seeks to create awareness among Ghanaians about the commercial, aesthetic and psychological benefits of horticulture and floriculture. It seeks to celebrate Ghana's unique flora and fauna, whilst pointing people to the income generating and job creation opportunities inherent in them. Ultimately, the aim of the Show is to encourage the harnessing of our flora and fauna for national development and improved livelihoods.