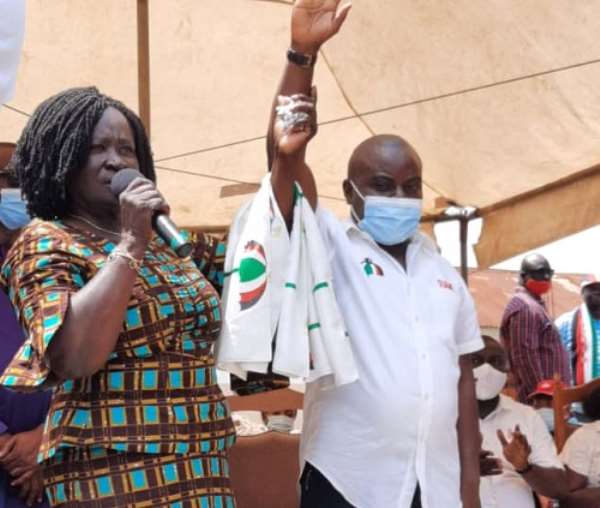 Jane Naana Opoku-Agyeman introducing Francis Dodovi to the people of Suame Constituency at the Bremanhene's palace
Professor Jane Naana Opoku-Agyeman, the vice-presidential candidate of the National Democratic Congress (NDC), has urged the electorate in the Suame Constituency to vote for the party's candidate, Francis Dodovi.
According to her, Dodovi, a journalist-turned-politician, has what it takes to lead the Suame Constituency into one of the well-developed areas in Kumasi.
Prof. Opoku-Agyeman made the appeal when she officially introduced Dodovi as the NDC parliamentary candidate for the Suame Constituency at the Bremanhene, Baffuor Kutin Sraman II's palace at Breman within the constituency.
The running mate for former President John Mahama also expressed gross concern over what she termed as lack of development across the length and breadth of the country due to what she claimed to be an ineffective leadership.
In this regard, she entreated the electorate to vote massively for Mr. Mahama and all the NDC candidates in the 275 constituencies across the country in order to help expedite the transformation of the country.
According to her, aside from winning the presidential election, the NDC also needs to win majority of the 275 seats in Parliament to make governance easier for Mr. Mahama and his team in the next four years.
Prof. Opoku-Agyeman, therefore, reiterated her call for the people of Suame Constituency to cast their ballot for Dodovi, whom she described as a competent and efficient leader.
Francis Dodovi bemoaned the lack of development in the Suame Constituency for so many years, so he promised to lead the area into prosperity when voted as an MP.
---Daily Guide