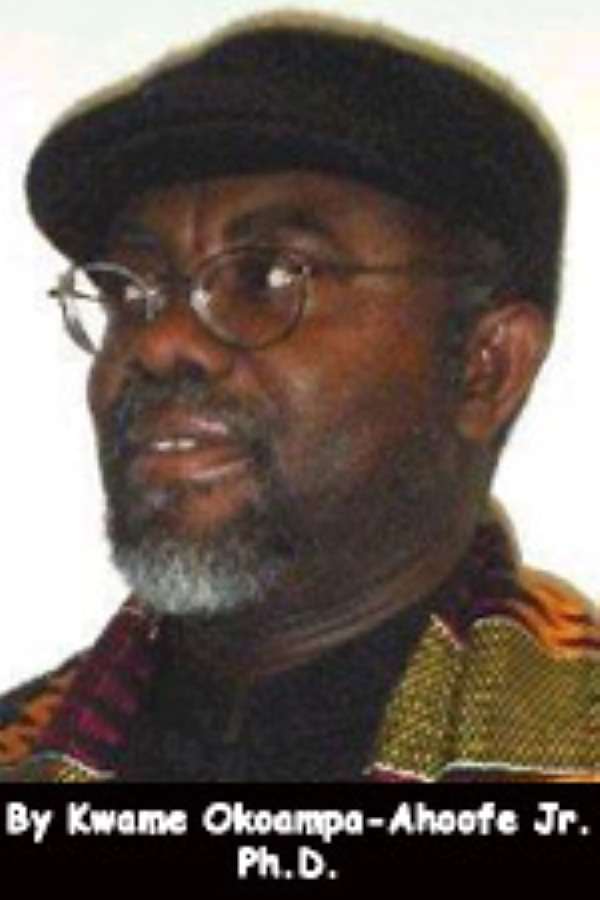 It was during the chaotic tenure of Mr. John "Akonfem-Kanazoe" Dramani Mahama that Nurse-Trainees had their age-old allowances rudely snatched from them by a Social Darwinian government that claimed that this longstanding professional-training incentive was not sustainable by a government that needed to spend such "wasteful money" elsewhere in furtherance of its dubious national-development agenda. You see, Dear Reader, human-resource development is not and has never been a salient part of the national-development agenda of the National Democratic Congress (NDC). Which is why it cannot only be chalked to a deviously calculated attempt by the Mahama Posse to suavely hoodwink the Ghanaian electorate into voting them back to Jubilee House, when Dr. Edward (Kofi) Omane-Boamah dishonestly and shamelessly promises that a highly unlikely comeback Mahama government intends to create more jobs for healthcare sector workers (See "Mahama's Free Primary Healthcare Will Create Jobs, Improve NHIS – NDC" Starr-FM / Ghanaweb.com 10/8/20).
On the face of it, such promise may be a step in the right direction for the Communications Minister of the previous Mahama regime that did very little to promote Ghana's public healthcare system. This is where the hurdle of credibility for the leadership of the National Democratic Congress is clearly coming from. Under the tenure of the Founding-Father of the National Democratic Congress, to wit, President Jerry John Rawlings, Social Darwinism, that is, Charles Darwin's theory of "Natural Selection" or "Survival of the Fittest" was the primary objective of the movers-and-shakers of the National Democratic Congress vis-à-vis our nation's healthcare system. It was the so-called Cash-and-Carry healthcare policy agenda or anti-healthcare healthcare system, to be exact. In a gist, what this meant was that the Rawlings' government was no longer about the social welfarist policy of heavily subsidizing our national healthcare system. Each and every Ghanaian citizen, including minors or children, was to cater to their own health needs.
Which meant that the overwhelming majority of the poor and underprivileged Ghanaian citizens who could not afford to pay for their own healthcare services, when they came down with any serious illnesses were, literally, left to die. Throughout the course of some 20 years now, the Social Darwinian Cash-and-Carry healthcare policy of the National Democratic Congress has not significantly changed. Which pretty much explains why the National Health Insurance Scheme (NHIS), originally created by former President John Agyekum-Kufuor and the welfarist-oriented New Patriotic Party (NPP), would be literally and callously allowed to go down the drain by the Mahama-led government of the faux-welfarist National Democratic Congress.
It was only with a deservedly crushing electoral defeat staring him starkly in the face that the then President John "Airbus-Embraer" Dramani Mahama decided to deviously albeit belatedly scapegoat Mr. Sylvester Mensah, his handpicked Executive-Director of the National Health Insurance Authority (NHIA) for Mr. Mahama's own massive failure at managing Ghana's public healthcare system. To-date, other than cheap, chaotic and incoherent diarrheal talk primarily aimed at deceiving Ghanaian voters into returning Candidate Mahama to Jubilee House, so that he could, once again, thumb his nose at us by telling us that we have absolutely no right to criticize his abysmally poor job performance, as the highest-paid and most powerful elected official of the land, because we, that is, those of us who once upon a time put him into Jubilee House, have absolutely no legitimate or inalienable constitutional right to tell him about his woefully crooked national leadership trajectory.
He says that he intends to provide more jobs for healthcare workers, in the egregiously scandalous event of being returned to The House that Nana Agyekum-Kufuor Built; so we have to first interrogate his track-record in the creation of jobs for professional employees in the public healthcare sector. Then, also, we need to find out from Little Dramani where the money for the creation of his proposed exponential job opportunities in our national public healthcare sector will be coming from. The latter question is especially significant, in view of the fact that the last time that he was made Chief Resident of Jubilee House, one of his first national-policy initiatives was to haughtily and summarily withdraw the age-old Nurse- and Teacher-Trainee Allowances, among dozens of others. Now, we don't need to tell the Dear Reader that the Nurse- and Teacher-Trainee sectors of our national economy rank with other foremost sectors of our national economy.
You see, leaders who have absolutely no clue about the significance of the need to prioritize Ghana's human-resource development, and rather think and believe that the mere construction of roads and flyovers is the essence of our national development process, ought not to be gunning for the Presidency or national governance, to begin with.
*Visit my blog at: KwameOkoampaAhoofeJr
By Kwame Okoampa-Ahoofe, Jr., PhD
English Department, SUNY-Nassau
Garden City, New York
October 10, 2020
E-mail: [email protected]