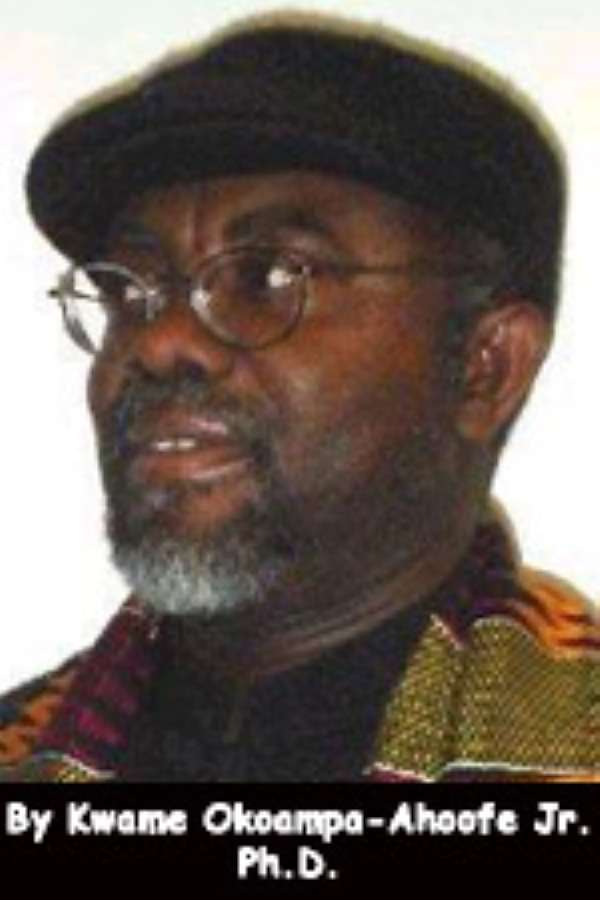 They say that they intend to provide Ghanaians with universal access to primary healthcare in the country, because the John Agyekum-Kufuor-implemented National Health Insurance Scheme (NHIS) does not cover even 40-percent of the Ghanaian citizenry. Candidate John "Akonfem-Kanazoe" Dramani Mahama and his former Communications Minister, Dr. Edward (Kofi) Omane-Boamah, say that in the highly unlikely event of both men's being, respectively, returned to Jubilee House and the Communications Ministry, presumably, the National Democratic Congress (NDC) will provide fee-free access to each and every Ghanaian citizen desirous of the same (See "Mahama's Free Primary Healthcare Will Create Jobs, Improve NHIS – NDC" Starr-FM / Ghanaweb.com 10/8/20).
Now, this is pure hogwash because President Addo Dankwa Akufo-Addo can credibly attest to the fact of having inherited a totally bankrupted National Health Insurance Scheme. Messrs. Mahama and Omane-Boamah have both made scandalous claims to the effect of Ghanaian citizens and voters' having been congenitally afflicted with the short-memory capacity of a Ouagadougou or Burkina Faso-vacationing Guinea Fowl. I also have a WhatsApp videoclip on which Candidate Mahama is seen telling a teeming audience of supporters and sympathizers that whole cloths of mendacity and poppycock are integral to the sort of empty and visionless political propaganda of the kind indulged by all the key operatives of the National Democratic Congress. So, it is quite obvious that Candidates Mahama and Omane-Boamah are wickedly and insolently insulting the intelligence of the Ghanaian electorate.
After all, haven't our Ghanaian sages of yore gone on record to the effect that if a naked person – man or woman – promises the Dear Reader a bolt or a full-piece of cloth, you would be better off listening to the hollow sound of his name, that is, "Mr. Naked" or "Madam Naked"? It is also farcically intriguing that the man who recently accused President Akufo-Addo of having borrowed a massive amount of loans with a diddly little to show for the same, is today claiming that the National Health Insurance Scheme that he completely reduced to an empty shell, with thievish bankruptcy, is today viable enough to provide free and readily accessible healthcare services for at least some 40-percent of Ghanaian citizens. Under the previous Mahama-led government of the National Democratic Congress, the NHIS gave free access to public health treatment to absolutely a zilch or absolutely not a single bona fide Ghanaian citizen.
Mr. Mahama could not even provide a stick of candlelight, let alone a flashlight, to the very Ghanaian citizenry who he plunged into total darkness for four-and-half long years. And, yet Mr. Kwame Naked Kanazoe-Dubai Gonja would have the members of the global Ghanaian community believe that he is, somehow, now capable of not only sustaining our existing Akufo-Addo-revived National Health Insurance Scheme but, even more blasphemously, that he is capable of significantly improving and exponentially expanding the same. Now, the logical question that needs promptly asking is this: Why did the then President Mahama put the Executive-Director of the National Health Insurance Authority (NHIA), Mr. Sylvester Mensah, under house arrest and the latter's passports seized and his bank accounts instantly frozen for embezzling funding earmarked for the operation of the National Health Insurance Scheme? As well, why was Mr. Mensah never brought to trial and instead had his passports returned to him and his bank accounts, once again, promptly unfrozen?
Was the preceding because, here again, Mr. Mahama was lying to Ghanaians about the true nature of his NHIS debacle, and that the extant President had actually diverted huge amounts of money earmarked for the operation of the National Health Insurance Scheme into the 2016 Mahama Presidential-Election Campaign? Was this also part of the $175 Million (USD) that Little Dramani had reportedly authorized, with the corporate complicity of Mr. Seth Terkper, for researching the chances of the electoral success of an extremely badly performing Mahama-led government of the National Democratic Congress? You see, Dear Reader, the Mahama Posse only exists to "Create, Loot and Share" the hard-earned monetary wealth of Ghanaian taxpayers, in the very memorable and inimitably poignant observation of Supreme Court Justice Jones Dotse, and not to either build our beloved nation or to significantly improve the general quality of life of the proverbial average Ghanaian citizen.
*Visit my blog at: KwameOkoampaAhoofeJr
By Kwame Okoampa-Ahoofe, Jr., PhD
English Department, SUNY-Nassau
Garden City, New York
October 10, 2020
E-mail: [email protected]