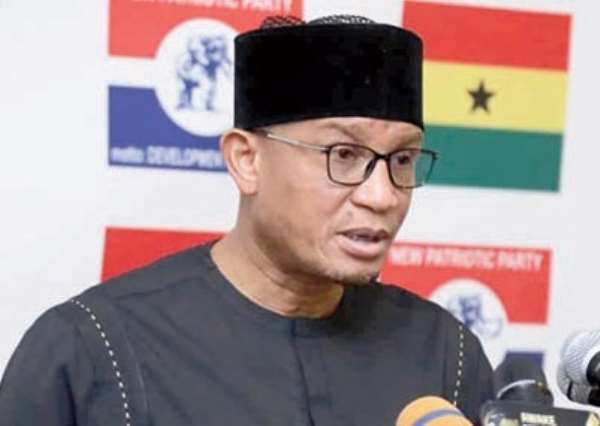 Dr. Mustapha Hamid
Decent politicking is a mark of mature democracy and civility. It is not difficult to determine the quality of a decent political grouping.
It is easy to tell which politician is raising the temperature of the country for their parochial political interests.
In its latest press conference to rebuff the series of mendacious tales as it were from the opposition NDC, the ruling NPP has served notice of 'not going dirty' in its political campaigns. This we find heartwarming and assuring.
The source of indecency in a political discourse can be identified only when one of the actors decides to make the gutter its abode.
We wish to encourage the NPP not to veer away from this direction no matter how much it is provoked by the opposition NDC.
There are many qualified citizens imbued with vast experiences, which can be brought to bear on our national needs but who are shying away from the occupation of politics. The participation of such persons who choose to cocoon themselves in their retirement homes can re-calibrate the course of national development but they would not because of the filth some persons throw into politics.
Those who have soiled their garments having stayed in the political gutters for too long do not make politics enticing.
Many are left with no choice than to ask whether politics is about claims and counterclaims or lies and rebuttals.
We must raise the bar of our political discourse in this country having come this far in our practice of democracy.
Discoursing issues and records is the most appropriate approach to politics of convincing for electoral gains.
We do not subscribe to the gutter politics which appear to dominate the occupation of one of the parties in the country.
Deliberate passing of remarks which cannot stand the test of veracity has become the order of some politicians something which has impacted negatively on the image of politics.
We pointed out in a previous commentary that politics which is about service to the people is a noble occupation. It ceases to be so only when it is played by irresponsible persons who will lie without blinking.
Were all the political parties to descend into the gutter where others are ensconced, the number of people snubbing politics would have swelled.
Fortunately, the decent ones are prevailing, their voices offering succour to the victims of the high decibel dirty politics of the others.
The NPP is not known for gutter or dirty politics and should therefore stay that course and refuse to be provoked by the vitriolic of agent provocateurs.
Those who engineer security breaches so they can turn round and claim insecurity cannot pass for decent personalities.
As pointed out earlier, it would inure to the good of the nation when political parties allow decency to be their watchword.
To lead a nation requires important qualities such as decency, sincerity, record of good governance among others.
Source: Daily Guide