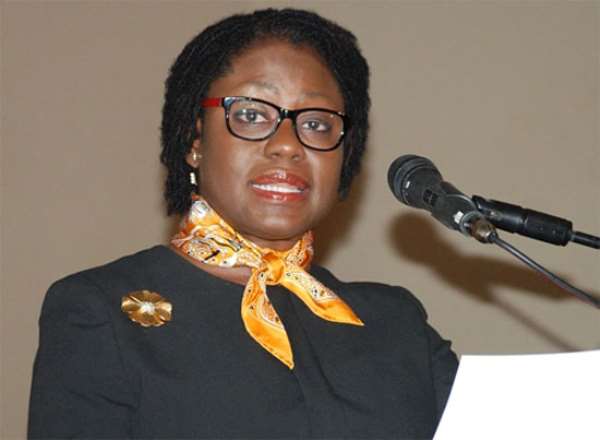 Elsie Addo Awadzi
The Second Deputy Governor, Bank of Ghana (BoG) Elsie Addo Awadzi says an amount of GH¢6.39 billion has so far been paid in cash to depositors of some 347 insolvent microfinance companies and 39 microcredit companies whose licences were revoked by the central bank on May 31, 2019.
Ms. Awadzi, who was speaking on Tuesday in Accra to journalists at a sensitisation programme, said those who were left to be settled from the balance of GH¢110 million of the GH¢6.5 billion endorsed by government for payment comprised related parties (i.e. shareholders, directors, and affiliates) of the defunct specialized deposit-taking institutions who played active roles in their management and control.
She said government had to save the situation because "the SDI sector has contributed significantly to our nation's socioeconomic development by serving individuals and micro, small and medium-sized enterprises. But for SDIs, a big vacuum would have existed in our financial system today."
Giving some background, the Deputy Governor said, "At the end of July 2020, the assets of SDIs constituted 8.47 per cent of the total banking sector assets and their deposit base and loans made up 7.70 per cent and 14.28 per cent respectively of the entire banking sector."
Role of SDIs
Ms. Awadzi noted that savings and loans companies, finance house companies and microfinance companies currently operated 1,070 branches nationwide and did business with close to 1.5 million individuals and businesses providing more employment.
Moreover, such entities offered loans to salaried workers, workers in the transport, communication, agriculture, forestry, fishing, small-scale construction, mining and the manufacturing sectors which "amounted to about GH¢5.7 billion as of July 2020."
She said currently there were 25 Savings and Loans Companies, 15 Finance Houses/Leasing Companies, 137 Micro Finance companies, and 144 Rural and Community Banks, operating".
To prevent the reoccurrence of such mass failures in the SDI sector as happened in the past, the Central Bank, she indicated, has revamped supervision and enforcing new rules on corporate governance and risk management to guide operators.
"There are still many Ghanaians and businesses that do not have access to savings products and credit facilities, and this presents opportunities for the SDI sector to grow. Under the National Financial Sector Development and Inclusion Strategy (2018 – 2023), government expects an increase in access to finance from the current rate of 58 per cent to 85 per cent by 2023," the deputy governor noted.
---Daily Guide