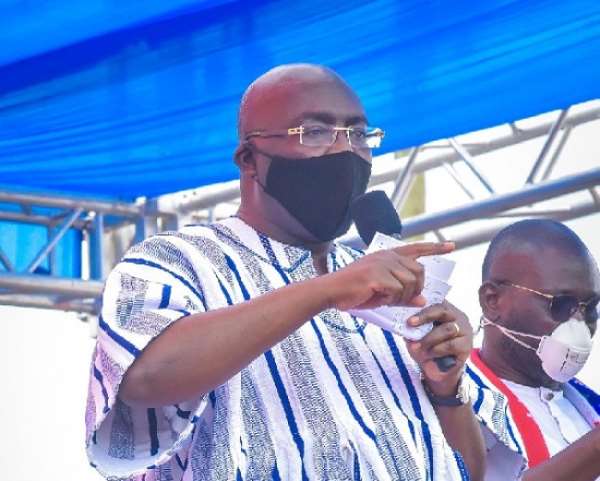 Vice-President Alhaji Dr. Mahamadu Bawumia
Vice-President Alhaji Dr. Mahamadu Bawumia has described ex-President John Dramani Mahama as 'the archbishop' of promises he cannot fulfill.
He said the National Democratic Congress (NDC) presidential candidate is desperate to recapture power and has been making what he said are "all sorts of promises just to hoodwink voters."
Speaking in an interview on 'Ashh FM' in Kumasi, Dr Bawumia said, "Mr Mahama is too desperate nowadays."
According to him, Mr Mahama is now promising to introduce policies that he had previously kicked against and said they were not doable.
"Mr. Mahama kicked against the introduction the Free Senior High School (SHS) policy and it is a known fact but lately, he has made a sharp U-turn by promising to expand the Free SHS policy to cover private schools."
"How can Mr. Mahama expand a policy that he had argued that it would collapse the economy?" Dr. Bawumia asked.
According to him, Mr. Mahama has realised that he cannot win the next elections, so he has resorted to promises.
Dr. Bawumia admonished the electorate to turn a deaf ear to Mr. Mahama's promises because they are not realistic.
The Vice-President predicted that the New Patriotic Party (NPP) would win the elections.
Dr. Bawumia said the country is far better now than when the "incompetent NDC" was in power for eight years.
He said the ailing economy that the NDC left behind has been given a rebirth, so it is now stronger than ever.
The Vice-President said the digitization system introduced by the government would expedite national transformation.
He, therefore, appealed to the electorate to vote massively for the NPP in order to sustain its impressive works.
Dr. Bawumia is currently on a campaign tour of the Ashanti Region to canvass for more votes for the ruling NPP.
So far, his tour of the region has been successful, as he has been welcomed by massive crowd during his visits.
---Daily Guide