Rawlings Should Leave Jean Adukwei Mensa Alone!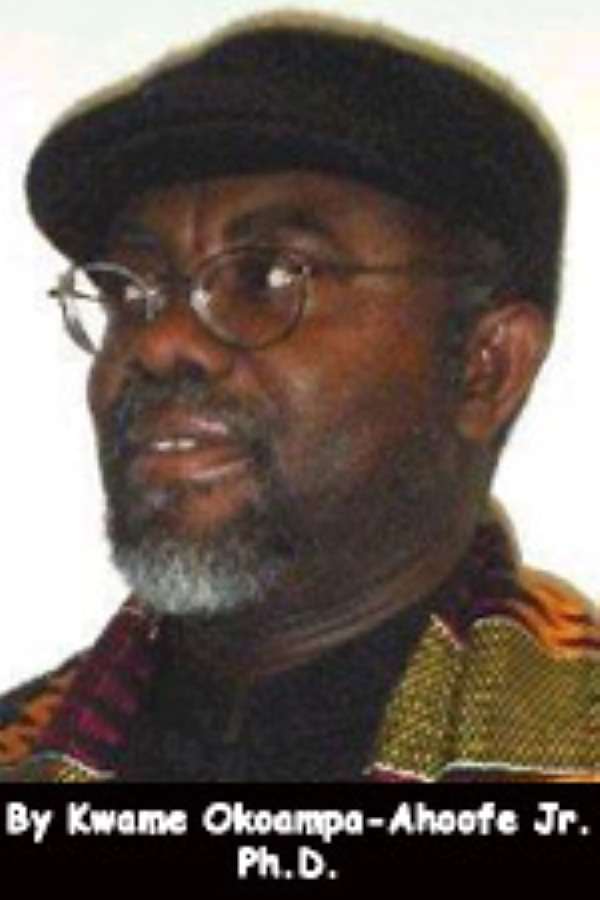 When he was summoned before the William Atuguba-presided Supreme Court judicial panel in 2013, the extant Chairperson of Ghana's Electoral Commission (EC), Dr. Kwadwo Afari-Gyan, the Rawlings-appointed and Mahama-decorated former political science lecturer of the University of Ghana, had been serving as Ghana's Chief Returning Officer (CRO), as it were, and had served in that cardinal capacity for a little over 20 years. And yet, during the 2013 Akufo-Addo, Bawumia and Obetsebi-Lamptey-led Presidential-Election Petition Hearings, Dr. Afari-Gyan had the temerity to inform a visibly bewildered Atuguba-presided Supreme Court Judicial Panel that he sincerely did not know the difference between what constituted a clear case of "Overvoting" and "Under-voting." Several weeks earlier, it is interesting and significant to note, however, that the Electoral Commission's Chair had publicly acknowledged that, indeed, hundreds of thousands of unqualified or ineligible underage Ghanaian citizens had been criminally and illegally allowed, with his personal supervisory complicity, to register to vote in the 2012 General Election.
The Atuguba-presided panel of the Supreme Court of Ghana's Jurists would, during the course of their deliberations, come to the predictable conclusion that, indeed, hundreds of thousands of underage Ghanaian citizens had been registered to vote. At the time that he publicly acknowledged that, indeed, a remarkable percentage of underqualified Ghanaian citizens had, literally, been illegally registered to vote with the apparent consent and even criminal complicity of some personnel of the Electoral Commission, Dr. Afari-Gyan had also categorically stated that he had absolutely no intention of bringing the full force of the law to get these illegally registered voters deregistered. At his most charitable and maximum best – and this was during a Voters' Register Exhibition Exercise – Dr. Afari-Gyan advised that these underage Voters' Register Enrollees could only be gently and "diplomatically" prevailed upon to voluntarily deny themselves the undeserved right to vote, something these civic minorities were legally not entitled to.
Even more scandalous was the fact that, according to Dr. Afari-Gyan, if any or all of these clearly underage registrants defied the constitutionally stipulated laws of the land and went right ahead to criminally exercise a franchise, which they clearly were not entitled to, there was absolutely nothing that anybody, including the country's law-enforcement agents, could do about this flagrant act of capital criminality. And, by the way, all the preceding occurred smack under the watch of the key operatives of the Rawlings-founded National Democratic Congress. And when the party's Chief Legal Counsel, Mr. Tsatsu Tsikata, spoke up, it was only to lamely and vacuously assert that both the then-ruling National Democratic Congress and the then-main opposition New Patriotic Party had both equally deliberately caused hundreds of thousands of underage and ineligible Ghanaian citizens to vote. Do any of you Dear Readers make any practical connections between the preceding event and the most recent riotous attempt by some chiefs and residents of the Volta Region to get some of their non-Ghanaian relatives across Ghana's border with the Kangaroo Republic of Togo into our beloved country to vote?
In short, the NDC-controlled Electoral Commission did not care a whit or give a hoot about the fact of whether Ghana maintained a clean National Voters' Register or not. It, therefore, comes as nothing short of the absolutely inexcusably hypocritical for the prominent likes of Chairman Jeremiah John Rawlings and Candidate John "Akonfem-Kanazoe" Dramani Mahama to be railing against the possibility of conducting the 2020 General Election with a flawed National Biometric Voters' Register (NBVR). Such complaints are decidedly superfluous because the entire objective behind the recent Voters' Register Exhibition Exercise, was simply to ensure that any flaws or omissions of the names of eligible and legitimately registered voters would be promptly rectified before the December 7 scheduled date for the 2020 General Election. Any capricious and politically invidious attempt to stampede the Chairperson of the Independent Electoral Commission (IEC) into doing the corrupt bidding of the key operatives of the National Democratic Congress will not wash.
It also goes without saying that since the inception of Ghana's Fourth Republic, Mrs. Mensa is easily the best qualified candidate to have been selected and appointed as Chairperson of the IEC. By far, of the three Ghanaian citizens who have been appointed Electoral Commission's Chair, Mrs. Jean Adukwei Mensa is the most impeccably qualified; even the Founding-Father of the National Democratic Congress, former President Jerry John Rawlings, has publicly validated the professional competence of Mrs. Mensa in her capacity as Chairperson of the Independent Electoral Commission. What is even more ironic, though, is that the occasion on which Chairman Rawlings reportedly made his rather unfortunate remark had to do with a courtesy call on him by a group of Anlo-Ewe Chiefs in commiseration with the recent passing of Ms. Victoria Agbotui, the birth mother of the man who has ruthlessly and savagely slaughtered more Ghanaian mothers and fathers in recent living memory than any other postcolonial Ghanaian leader.
*Visit my blog at: KwameOkoampaAhoofeJr
By Kwame Okoampa-Ahoofe, Jr., PhD
English Department, SUNY-Nassau
Garden City, New York
October 3, 2020
E-mail: [email protected]