They Both Sleep with One Woman, So What Do You Expect?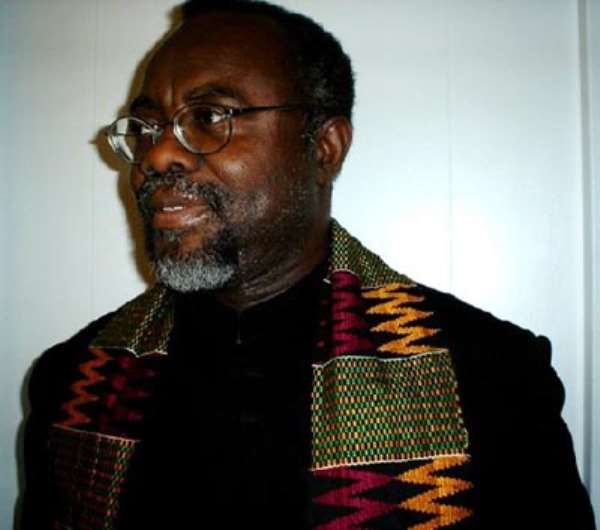 Like Candidate John "Airbus-Kanazoe" Dramani Mahama, the mediocre Hiplife has-been artist by the name of Mr. Kwame Asare Obeng (aka A-Plus), sleeps with the equally mediocre Kumawood actress and filmmaker by the name of Ms. Tracey Boakye. So it ought to come as absolutely no surprise that Greedy Boy A-Plus would close ranks with Little Dramani to scandalously attempt to impugn the dignity and integrity of unarguably the most visionary and progressive Fourth Republican Ghanaian leader, to wit, Nana Addo Dankwa Akufo-Addo (See "I Was Wrong, Akufo-Addo Is Another Ordinary Politician – A-Plus" Ghanaweb.com 10/8/20).
We should also not be the least bit flabbergasted, if one of these days, a wallet-loaded A-Plus mounts the podium at one of the Mahama stumps and starts cooing about the massive chimerical infrastructural development track-record of his fellow graduate from the Tracey Boakye School of Butt-Kissing. We also know that it was naked greed that disaffected Mr. Asare Obeng from Nana Akufo-Addo, and not any revolutionary search for justice – these two dirty johns, that is, Messrs. Asare Obeng and Dramani Mahama, deserve the criminally corrupt companionship of one another, and it is a damn shame that A-Plus was ever allowed to cross the ideological aisle from the Mahama camp to the globally revered Danquah-Busia-Dombo neoliberal and market-oriented establishment at all – so we will not waste any time rehashing the same here.
The fact of the matter is that A-Plus was never in the same forward-looking ideological school with Ghana's former Attorney-General and Minister of Justice and the man of genius who crafted the landmark Repeal of the Criminal Libel Law that has, ironically, allowed freeloading pathological scam-artists like Little Dramani and A-Plus literally get away with libeling the man they fervidly wish was their relative or clansman. I am also amused to hear A-Plus scornfully describe Nana Akufo-Addo as "an ordinary politician," because the "Akyem-Mafia Capo" never at anytime announced to the global community or anybody, for that matter, that he was a "Political Superman" or "Superstar," although that is precisely what his inimitable deeds as a visionary statesman and Ghana's foremost postcolonial nation-builder have made him out to be.
Now, A-Plus has the prime opportunity to crown Candidate John "Akonfem-Kanazoe" Dramani Mahama the political superhero whose caliber the prematurely peaked Hiplife act claims President Akufo-Addo has fallen so woefully short of. Mr. Asare Obeng may clearly not like it one bit, but it is an inescapable reality that he can do absolutely nothing about and has no other alternative but to squarely and frontally deal with. Which is that compared to his fellow Tracey Boakye john and favorite politician, that is, Little Dramani, Nana Akufo-Addo is a political colossus the likes of which the Bole-Bamboi, Akufo-Addo-created Savannah Region, native can never measure up to. At any rate, what is the use of the Kasoa Interchange to a member of the Unemployed Graduate-Students' Association (UGSA), arguably the most significant nation-wrecking human-resource development handicraft bequeathed the Akufo-Addo-led government of the New Patriotic Party (NPP) by the Mahama-led government of the National Democratic Congress (NDC)?
Then, also, what is the use of the Ridge Hospital to a deathly ailing civil servant or an expectant mother who cannot readily access our national public health system or facilities, because the John Agyekum-Kufuor-implemented National Health Insurance Scheme (NHIS) had been completely bankrupted by the Looting-Brigade operatives of the 2016 Mahama Presidential-Reelection Campaign. That is the human-resource legacy that Ghanaians need to be discussing in the leadup to the December 2020 Presidential Election. The market women of the Kumasi-Kejetia Central Market would proudly tell political scam-artists like A-Plus or whoever dares them to it, that they would rather have their children, grandchildren and relatives fully benefit from the Akufo-Addo-implemented fee-free Senior High School System than contract leg cramps and rheumatoid arthritis by being crammed into the chicken coops that farcically parade as stalls or cubicles at the Kumasi-Kejetia Central Market. That is what Little Dramani means, when the yam, corn and Akonfem-flying Gonja Boy brags about paving the streets and highways of the Asante Region with gold.
If, indeed, Akufo-Addo is an "experienced political/election loser," as A-Plus claims, how come did Mr. Johnson Asiedu-Nketia, the dynastic General-Secretary of the National Democratic Congress, bitterly impugn the credibility of Election 2012, by telling a radio talk-show host that, indeed, it was the then Candidate Addo Dankwa Akufo-Addo who had carried the vote in the 2012 Presidential Election, but that the results of that election had been fraudulently called by Dr. Kwadwo Afari-Gyan, the extant Electoral Commissioner, in favor of an incumbent Interim President John "Akonfem-Kanazoe" Mahama because Candidate Akufo-Addo's polling agents and observers had not been vigilant enough? You see, it all boils down to the sumptuousness of the ample or jumbo derriere or behinds of Tracey Boakye, when it comes to the criminally regressive mindset and crooked judgment of Messrs. Obeng and Dramani Mahama. What do the English say about birds of same feathers, by the way?
*Visit my blog at: KwameOkoampaAhoofeJr
By Kwame Okoampa-Ahoofe, Jr., PhD
English Department, SUNY-Nassau
Garden City, New York
October 9, 2020
E-mail: [email protected]