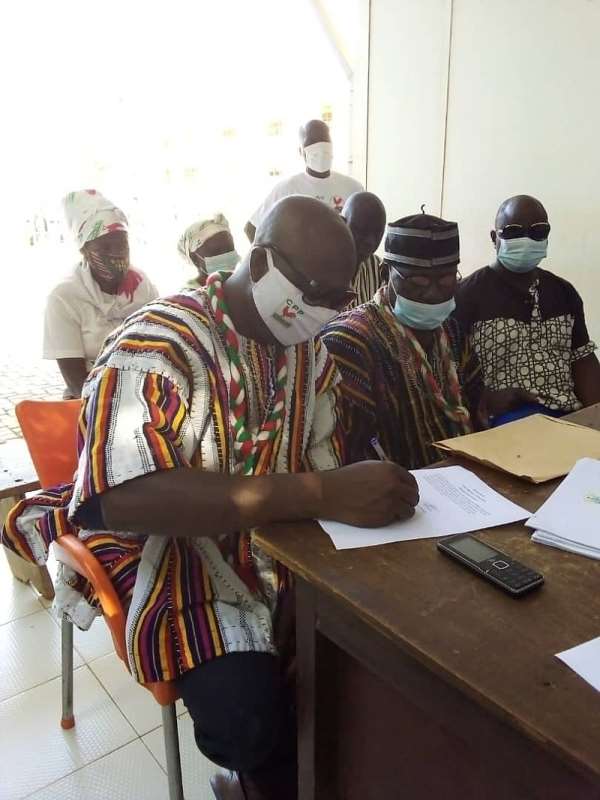 CPP parliamentary candidate for Zebilla constituency
The Convention People's Party (CPP), the parliamentary candidate for Zebilla constituency in the Bawku West District of the Upper East Region, Benjamin Anafo, has successfully filed his nomination forms to contest the upcoming December 7 elections.
Benjamin Anafo was accompanied by the former parliamentary candidate of the party Mr. Azumah Ndaugo together with large crowd of supporters, friends and families amidst drumming and dancing on the principal street of Zebilla to the Electoral Commission office.
After filing his nomination forms, Benjamin Anafo vowed to unseat the incumbent Member of Parliament representing the New Patriotic Party (NPP) in the constituency.
He said the constituency need vibrate person like him to bring development and save the constituency. He added that, what was expected of the incumbent MP is not what the electorate are seeing on the ground.
In outlining his policies, Benjamin Anafo mentioned empowerment of youth in dry season by providing the youth farmers with water pumping machines for irrigation purposes.
He stated the empowerment of women and men who are in businesses to assessment the Masloc loans to boost their businesses, help register the needy into the national insurance scheme to access health care, lobby for electricity for the numerous communities that do not have lights, supply widows and orphans with food stuff during the lean season.
Benjamin Anafo added he will supply the basic schools with mono and dual desks for effective teaching and learning and dialogue with communities to really know their individual community needs and to help address them.
The Tutor of Zebilla Senior High Technical School said he believes he is the only candidate who can bring visionary leadership in the constituency.
He said it was about time Ghanaians think critically and kick out the governing NPP and the opposition NDC and vote massively for the CPP because it is the only party that can transform Ghana.
He called on the electorate to also vote massively for the presidential candidate lawyer Ivor Kobina Greenstreet.
He said Ghana will be saved under the CPP than any other party and called on all supporters to have hope and trust and vote massively for the CPP for good transformational agenda.