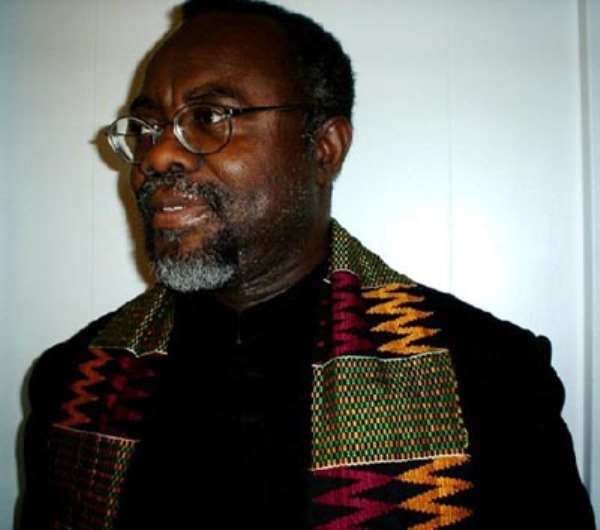 When Candidate John "Akonfem-Kanazoe" Dramani Mahama accuses his immediate successor, to wit, President Addo Dankwa Akufo-Addo, of having contracted a large amount of loans and having absolutely nothing to show for such humongous amount of loans, in terms of palpable development projects on the ground, the most logical and effective method of replying the globally infamous kleptocrat, is to meticulously and systematically list the number of development projects executed by the Akufo-Addo-led government of the New Patriotic Party (NPP), vis-à-vis Candidate Mahama's so-called Savannah Accelerated Development Authority (SADA), and not lamely and bashfully, and lazily, explain why loans are contracted by any government and for what use or uses, and the terms or kinds of loans that may be taken out or contracted by any sitting government, namely, short-term, medium-term and long-term loans. That is not how you convince voters that your candidate of choice is a better leader.
That amounts to naively and inexcusably begging the question and making the most thoroughgoing corrupt Fourth Republican Ghanaian leader, in the authoritative words of former President Jerry John Rawlings, the Founding-Father of Ghana's main opposition National Democratic Congress (NDC), look good and better than what Little Dramani really is, which is the most financially thievish and wasteful Ghanaian leader in our beloved nation's postcolonial history (See "The Deliberate Mis-Education of the Electorate: The Disingenuousness of Mahama's Rants on the National Debt" Modernghana.com 10/5/20). For example, unlike the man who invested the Ghanaian taxpayer's hard-earned money in the purchase of some Guinea Fowls that were never delivered to his own fellow northern-descended Ghanaian citizen farmers for whom these Guinea Fowls were allegedly meant, Nana Addo Dankwa Akufo-Addo has implemented a fee-free Senior High School Policy Initiative that has benefited each and every ethnic group and family in the country, including the relatives of the Western Togoland Secessionist Terrorists.
Candidate Mahama cannot credibly make the same visionary and progressive leadership claim. As well, it took the necessary and inevitable contraction of those "humongous loans" to resuscitate the John Agyekum-Kufuor-implemented National Health Insurance Scheme (NHIS), which was totally bankrupted by the Mahama-led government of the National Democratic Congress (NDC). Indeed, legend even has it that most of the funding earmarked for the operational maintenance of the National Health Insurance Scheme was actually diverted into the 2016 abortive Mahama Presidential Reelection Campaign. And when this patent act of political criminality was exposed, the then-President Mahama scapegoated the man he had personally appointed to administer the NHIS by having Mr. Sylvester Mensah, the extant Executive-Director of the National Health Insurance Authority (NHIA), arrested and his passports confiscated and his bank accounts frozen. You see, all that the Mahama Posse knows how to do is give empty labels to projects established by their main political opponents of the ruling New Patriotic Party.
The interesting news here is that Mr. Mensah would shortly be released from under house arrest, have his passports returned to him and his bank accounts unfrozen. Here, too, reliable news from the grapevine had it that Mr. Mensah had been let go after he threatened to expose Little Dramani's criminal bankrupting of the National Health Insurance Scheme. That Mr. Mensah was never brought to trial provides yet another ample testimony to the veracity of the aforesaid rumors, and testimony to the judiciary wrecking-ball's woeful incapacity for punishing official wrongdoing. Now, here are a few examples of some of the criminal financial losses caused the country and the Ghanaian taxpayer by Mahama cronies and associates: At least 24 dud/fake checks issued by then then-President John "Airbus-Kanazoe" Dramani Mahama's younger half-brother, Mr. Ibrahim Mahama, for the payment of imported equipment for his predatory mining company, the so-called Engineers and Planners Limited Liability Company. Did I hear anybody say "Engineers and Scammers Company"?
Then also the GHȻ 100 Million "Oil Cash for Votes Scandal"; Mahama Ayariga's $ 44 Million (USD) Atlas Scandal…the list goes on and on and on as to make any progressive and patriotic Ghanaian citizen wonder whether Candidate Mahama really cares about protecting the Ghanaian taxpayer from the wasteful spending he claims President Akufo-Addo is the most guilty of.
*Visit my blog at: KwameOkoampaAhoofeJr
By Kwame Okoampa-Ahoofe, Jr., PhD
English Department, SUNY-Nassau
Garden City, New York
October 5, 2020
E-mail: [email protected]