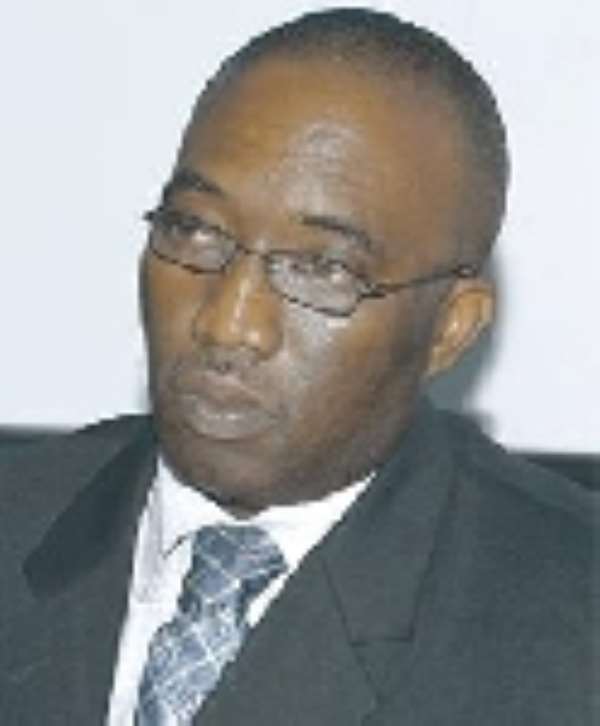 Betuiriseeh Cab-Beyuo, the Chief State Attorney, who without consulting his superiors, changed the initial charges preferred against five policemen linked to the MV Benjamin missing cocaine case, has been ordered to proceed on leave.
"We have asked Mr. Cab-Beyuo to proceed on leave so that we can investigate the circumstances leading to his action in the trial of the case," Mr. Joe Ghartey, the Attorney-General and Minister of Justice, told the Times on telephone yesterday in Accra.
He said it was an error of judgement on the part of Mr. Cab-Beyuo since only the Attorney-General, under Article 88 of the Constitution, has the power to change, substitute or prefer charges against accused persons.
Cab-Beyuo, according to the Attorney-General, erred by not consulting his immediate superior or the AG before changing the charges.
Mr. Ghartey said that for the policemen to have escorted somebody believed to have offloaded the missing 77 parcels of cocaine, smacked of aiding and abetting.
The five policemen, Detective Sergeant Samuel Amoah, General Sergeant Daniel Nyarko, Detective Lance Corporal Dwamena Yabson, General Sergeant Issa Asante and General Lance Corporal Peter Bondorin, all of the Tema Regional Police Command, were arraigned before an Accra circuit court for their involvement in the disappearance of the parcels of cocaine from the MV Benjamin, at the Tema port.
Of the five, Amoah, Nyarko and Yabson appeared in court on September 12 while Asante and Bondorin were brought on September 18 before the two cases were merged.
However, on their next appearance on September 25, the prosecutor, Mr. Cab-Beyuo, had withdrawn the charge and substituted it with an amended charge of extortion.
With that development, the suspects, who were then on remand, were granted ¢300 million bail with one surety each.
The Attorney-General, who was unhappy with the prosecutor's action, countermanded Cab-Beyuo's action on September 27, and ordered the re-arrest of the suspects.
However, before the police could effect the AG's order, one of the suspects, Amoah, had absconded.
They are now facing new charges of conspiracy, importation of narcotic drugs without licence, abetment, possession of narcotic drugs without lawful authority and doing prohibited business related to narcotic drugs.
Cab-Beyuo was subsequently replaced by Ms Gertrude Aikins, also a Chief State Attorney, and a bench warrant was issued for the arrest of Detective Sergeant Samuel Amoah, believed to have escaped to Togo.
The new charges also cover Asem Darkey, popularly known as Sheriff, who was alleged to have carted the 77 parcels of cocaine away.
He is on the run and the police have offered a reward of ¢50 million for any information leading to his arrest.