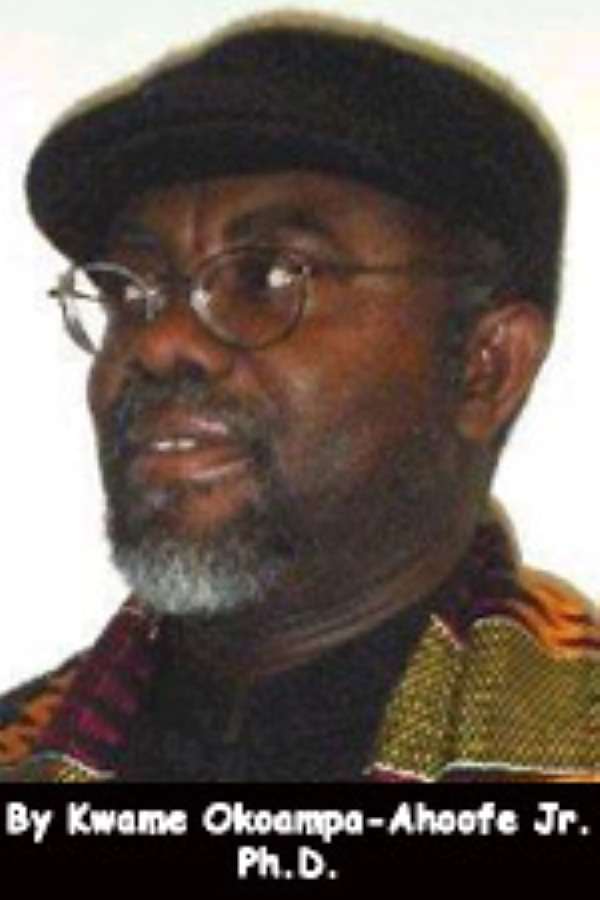 It ought to have become crystal clear to us by now that very soon the sedentary culture of cemeteries will be coming to a necessary end, as the crunch of population explosion makes it increasingly difficult to maintain burial grounds beyond a generation or two. The realization of this reality was recognized well before my birth. At any rate, as populations explode around the world, new lands are not being created by Divine Providence (my profound apologies to Comrade John "Ford Expedition-Kanazoe" Dramani Mahama), although space scientists tell us that there is an endless expanse of universe out there, and that there may eventually be even endless room, somewhere, in space or the firmaments into which humans could migrate and lay claim to territories beyond our very limited imaginations. We are also told that it is all a matter of time and technological know-how.
Obviously, until then, we are forced to manage the increasingly very limited expanse of land that presently remains available to us, especially as we also increasingly get reluctant to expand our settlements into virgin forests and the hitherto no-man's-lands and spaces. In the Kyebi Municipality, it well appears that we were not quite as lucky the good people and citizens of Diabene, the suburb of Kojokrom, within the Sekondi-Takoradi Metropolis, who were recently given a two-week ultimatum to exhume and relocate the mortal remains of their beloved relatives who had been buried in the Diabene Community Cemetery, because the land was direly needed for the construction of a playground for the youths of the township (See "Families Run for Buried Relatives as Chief Reclaims Cemetery Land" AngelOnline.com / Ghanaweb.com 9/18/20). I saw this coming long time ago, when I discovered to my wistful disappointment and sorrow that the holy grounds on which my Akyem-Asiakwa great-grandparents had been buried had actually been converted into the football field for the pupils of the Presbyterian Middle School. Once, my maternal grandfather pointed at some mounds at the northern edge of the football field and solemnly told me that that was where Nana Theodore Adolph Kwadwo Aboagye, the great pioneer missionary and his senior brother, Nana Sintim, had been buried. We were on our way to the farm one Saturday morning. I never ceased revering that part of our football field.
In Kyebi, I discovered this very disconcerting reality sometime just before the outbreak of the COVID-19 global pandemic, when I called one of my paternal cousins, 73-year-old Mr. Kwaku Opare, and asked him to consult with some masons or architectural specialists in the designing and the construction of tombs and tombstones, so I could put a tombstone over the grave of my paternal grandmother and perhaps the graves of an aunt or two. Those would be Cousin Opare's maternal grandmother and maternal aunt or aunts. When our grandmother, Auntie 'Kua (Laura Akua Yeboaa) passed on, at 82 or 83 years old, in 1989 or thereabouts, we buried her in a cemented grave and raised the top of it a few inches about the ground, so it would be readily recognizable and/or locatable when it came time to mount a headstone on the tomb. The old lady had been gone for a little over a quarter century but, still, no head marker had been mounted on her grave. It was my one great desire to place a head marker on her grave so that the next time I was in Ghana with my two boys, we will be able to visit our deceased relatives and place some wreaths or flowers on their graves.
You see, like all sedentary cultures, Ghanaians like to remember our dear departed ones for as long as we live. Ironically, we are not a people who generally translate our love for the dead into the creation and designing of scenic cemeteries like the way it is done here, for the most part, in the United States of America. Anyway, to cut a long story short, Cousin Opare blurted out the most spine-chilling sentence that I least expected to hear in a long, long time. "Auntie 'Kua's grave is no more, Uncle." All my Kyebi cousins call me by my late father's title of "Uncle." For a split second or two, I thought I was speaking to the wrong person. But, of course, I clearly was not. "I mean, I have been thinking of placing a tombstone on our grandmother's ever since she passed on."
"Well, my uncle's grave is still intact," Cousin Opare strangely appeared to be changing our conversational tack, which made me reflexively ask, "Which uncle of yours are you talking about, Wofa Kwaku?" Then I quickly recovered, having realized that he was referring to my late father who had, of course, been his maternal uncle, his only direct maternal uncle, of course. "What happened?" I asked in utter confusion. Well, somebody decided a little while back that it was about time the graves and tombs of the civic and political nobodies got bulldozed to make way for the royal and princely somebodies of Kyebi at the several meters stretch of the foregrounds of the Kyebi Presbyterian Church Cemetery. "So, what happened to the remains of those whose graves and tombs were so callously and technologically desecrated?" I asked with palpable anger. They must have hauled and carted them somewhere.
That was when I decided that maybe it is well-nigh time for us, as a people and a country, to decide via a national conversation, whether to adopt a cremation culture of our own. The socioeconomic, cultural and political "somebodies" of Ghana and Kyebi can just as well go to hell, or wherever such godforsaken rich and powerful Ghanaians go upon their demise.
*Visit my blog at: KwameOkoampaAhoofeJr
By Kwame Okoampa-Ahoofe, Jr., PhD
English Department, SUNY-Nassau
Garden City, New York
September 20, 2020
E-mail: [email protected]