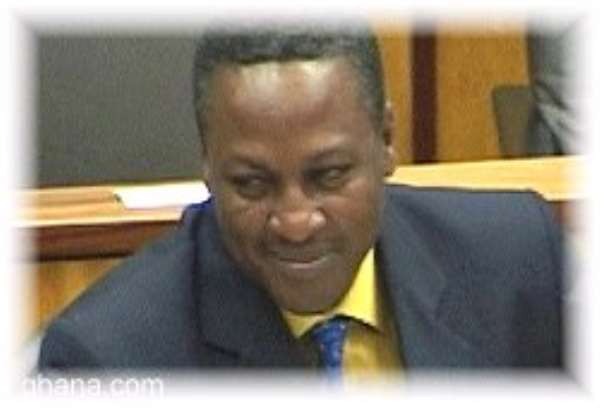 Opposition NDC MP John Dramani Mahama has told the dailyEXPRESS that he will later this week announce his acceptance or otherwise of calls to contest the NDC's presidential primaries scheduled for December in Accra.
Mr. Mahama has remained silent and parried away questions about his candidature anytime he is asked. Despite very reliable information picked up by the dailyEXPRESS and published in its Issue 20 that the affable former Communication minister will pick a nomination form, he is yet to do that weeks after his party opened nominations.
When the dailyEXPRESS traced him to a wedding ceremony at the Kingdom Impact Church at Mallam Junction in Accra on Saturday, Mr. Mahama speaking exclusively for the first time about the NDC race said "give me up to this weekend, and I'll break my silence. A lot has been going on and some consultations had to take place, and I can say definitely that before the next week Ghanaians will know whether I'll join the race or not."
John Mahama said he has still not taken a firm position, insisting that "it's still a 50-50 issue; the statement will be out soon."
After receiving arguably the most calls and pleas from party faithful, the Northern intelligentsia and civil society to run for president, the Bole Bamboi MP has remained indecisive and shied away from making any comments or giving away any hints.
Considered the fix-it candidate for the NDC, his supporters and admirers in the party say he holds the golden key to winning the 2008 elections for the NDC because in addition to the NDC votes, John Mahama possesses the persona that can and will draw a lot more floating and anti NDC voters to himself.
Mr. Mahama also confirmed dailyEXPRESS' previous publications that lobbyists and scouts of especially former Vice President John Atta Mills have had some discussions with him but said it had nothing to do with him becoming a running mate.
"My brother, the pressure and calls are from various angles, not only from Mills' people but it is not what you said about a running mate arrangement. Talking is important in these things" he said.
Although he will not confirm it, dailyEXPRESS has learnt that the Mills camp has been pressurising the young MP to abandon any decision to contest and rather join the Mills team as running mate.
NDC power brokers are also making a pitch for a John Mahama running mate no matter who wins the primaries because of his ability to bring in personal votes.
While Mr. Mahama's supporters will be praying and hoping for a 'positive' statement on his candidature this week, dailyEXPRESS enquiries and analysis also show that while Mr. Mahama enjoys massive support both from within and outside the NDC, his support base is more of the general voting population. This means that he will have to start work early in order to get the delegates who up till this point are Rawlings/ Mills fanatics to believe in his leadership.
Mr. Mahama himself says, he has heard and followed all the political analysis about how either of the confirmed candidates can affect positively or negatively the chances of the NDC, but believes that at the end of the day it will be for the delegates who hold the trump card to decide after careful consideration of the real issues, who can help the party score electoral victory.
Many of the delegates have known Mills and still believe that party founder Jerry Rawlings' preference will still be the former Vice President, despite the fact that he has remained silent and respecting the party's guidelines. Party insiders say, with some key Rawlings followers who are also leading party figures supporting Mills, some delegates think the founder still supports his former Vice.
Some party sources have however stated to the dailyEXPRESS that a John Mahama entry will narrow the race for flagbearer to Mills, Mahama & Spio Garbrah with Mills and Mahama been the front runners.
The man to beat in the race will be Professor Mills. Will John Mahama's statement say? Yes I am ready to challenge John Mills, Ekwow Spio Garbrah, Mahama Iddrisu and Edward Annan for the NDC top post?