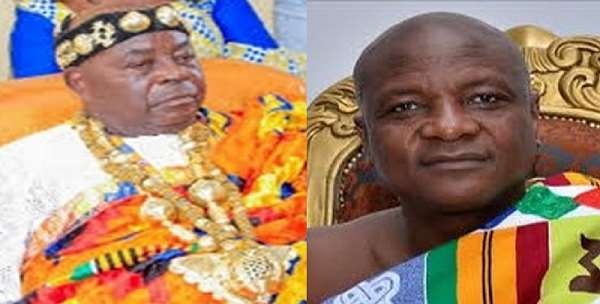 Sri III and Togbewo Afede XIV
Agbogbomefia Togbe Afede XIV and Awomefia Togbe Sri III, medo gbe na mi. Me nyi ba na mi. I salute your majesties.
I have an issue on my chest and I will go straight to the point. Anago people say either the toad that runs in the day is chasing something for prey or another predator is chasing the toad. If I were the proverbial toad in this article then take note that something is chasing me on this occasion and I call for your swift royal interventions.
Condemn the Western Togoland Secessionists' Activities
Togbe Afede and Togbe Sri, you are not only big chiefs in Ewe land but you are also revered by people who are not even your subjects. Yes, that is the kind of recognition you have. To this end, we highly expect that in your presence, a pregnant goat in labour cannot and must not be allowed to give birth to its young one while tethered to a tree. It means that certain thorny occurrences must not be permitted once you the elders are vigilant and in control. Unfortunately, that is what is happening in the Volta Region where your royal palaces are located. What is this pregnant goat? The pregnant goat is the mayhem the secession group (The Homeland Study Group Foundation) is causing. The group has been calling for the declaration of the Volta Region as an independent state from Ghana to be called Western Togoland.
Togbewo, so far, I have not heard your royal voices condemning the secessionists. Even if you spoke against it then I did not hear. It may also be that your voices were not frantic and audible enough for one to hear.
Your continuous silence on the unfortunate development is worrisome. If the saying, "silence means consent" is anything to go by, then will it be wrong if we take your continuous silence over the matter as an endorsement of the secessionists? If indeed, you do not endorse the secession movement, then act now because the pregnant goat is in labour but still tethered to a tree. We want to hear your condemning voices.
The Latest Western Togoland Secessionists
The latest from the group is that we woke up this morning (Friday, 25 September 2020) to hear that the Western Togoland secessionists have blocked the major routes to the Volta Region, causing mayhem and even kidnapped about some officers of the Ghana Police Service while others have been locked up in rooms.
The blocked areas are Accra to Ho, Aveyime, Adidome, Mepe, Akuse, Sogakope and Aflao. The National Security has been dealing with this serious situation for some time now. However, we need the royal supports of you the Chiefs in the Volta Region to enable us deal with the germane factors to this problem.
Togbe Afede, you are the incumbent President of the National House of Chiefs (NHC) and so far, you have done well in that office. In the climax of your performance however, we want to see you moving the NHC towards solving this problem. The fact that it is not a chieftaincy affair does not matter. It is a security issue and you our chiefs must be concerned. If you do not do this, who else will do it, Togbe Afede? Unless you have endorsed the activities of the secessionist group then let us hear you and Togbe Sri III condemning it loudly. Are some chiefs involved?
It would be recalled that earlier this year, the group hoisted its flag at the premises of the Volta Regional Coordinating Council. They hoisted the flag in the night. This happened after the leader and some members of group were arrested. All this went on yet you Togbewo have been mute as though you did not hear. This time, we want to hear your voices of condemnation of the activities of the group if only they do not have your royal backings.
How Did It All Start?
For me, this whole thing started with the leader of the secessionists, Mr. Charles Kwame Kuddzordzi (a.k.a Papavi Hogbedetor) narrating Ewe oral history on radio stations in the Volta Region. Most people enjoyed his narrations thinking they were learning history. Little did we know that he had this diversionist idea of forming a secession group.
Togbe Afede XIV and Togbe Sri III, we want to hear you condemning the secessionist act openly and we want to see you supporting the security services to bring the situation under control. This is how terrorist groups like Boko Haram started. We need to nip it in the bud before it bears fruits of destruction. I am ashamed that even people of Mepe, my hometown are also part of this group. We hope that the security services will let professionalism prevail while they handle this situation. We also hope that the situation does not have any partisan political undercurrents, knowing how polarised the country has become. Even if it is discovered that this is a partisan political move made by people in the cloaks of the Western Togoland Secession Group, we expect you the blue bloods to expose it and condemn it unreservedly and publicly.
~ Asante Sana ~
Author: Philip Afeti Korto.
Email: [email protected]