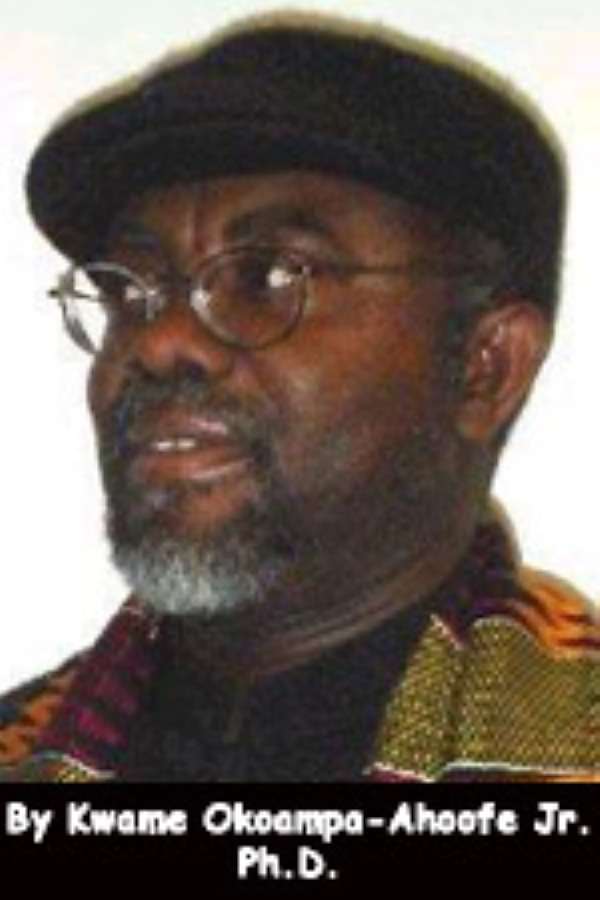 Deep-rooted corruption. That is what Mr. Alhassan Sayibu Suhuyini, the National Democratic Congress' Tamale-North Member of Parliament, thinks that the "Second Coming" of Candidate John "Akonfem-Kanazoe" Dramani Mahama is apt to rescue Ghanaians from; so maybe what we need to do is list a few examples of the "deeply" corrupt scandals in which Little Dramani mired Ghanaians during the four-and-half years that the self-infatuated megalomaniac occupied the Presidency as the Chief Resident of Jubilee House (See "Support Mahama's 'Rescue Mission' Back to the Presidency – Suhuyini Tells Ghanaians" Modernghana.com 8/16/20).
Maybe the Tamale-North's NDC-MP would be better off telling us which national development program or project implemented by President Addo Dankwa Akufo-Addo and the New Patriotic Party (NPP) could be more thoroughgoing corrupt than the Mahama-implemented Savannah Accelerated Development Authority (SADA), whose sole criterion for the appointment to board membership was one's northern ethnicity or northern tribal and cultural descent. What about the Akonfem (Guinea Fowl) poultry development project – in which all the birds purchased with the Ghanaian taxpayer's money were lamely alleged to have seasonally flown to Burkina Faso for a brief vacation. The birds never returned – and the collusive Agambire (Agams?) Mafia Network? Now, let's talk about the Akyem Mafia.
I also sincerely don't know that Little Dramani has rescued a single one of the Witches of Gonjaland, his wife Lordina created villages for them, who continue to be riotously chased out of their homes and savagely slaughtered all over the Gonja Kingdom, especially in the vicinity of Little Dramani's hometown of Bole-Bamboi, in the Akufo-Addo-created Savannah Region. You see, Mr. Suhuyini, the Kabonga natives of Akyem-Mansa, in particular Akyem-Abuakwa, are well aware of that jaded but still indispensable maxim about the imperative need for charity to begin from one's own homestead. The freeloading Tamale-North's MP may have conveniently forgotten this but when it comes to the use of military intimidation tactics, Candidate John (Kwame) Dramani Mahama is easily the unrivaled Gold Standard in postcolonial Ghana, with the possible exception of the Founding-Father of the National Democratic Congress (NDC), Chairman Nana Agbotui Jeremiah John Rawlings, the man who schooled Little Dramani in the ungodly art of "Shit-Bombing."
As well, Mr. Suhuyini may have so soon and scandalously forgotten how in the leadup to the 2016 General Election, the military uniform-addicted President Mahama deployed hundreds of soldiers in the Eastern Regional Capital of Koforidua, in a bid to ensuring that diehard Akufo-Addo and New Patriotic Party supporters and sympathizers would stay away from the polling booths. When, in fact, unlike the most recent case, during the most recent National Voters' Registration Exercise, there were absolutely no international boundaries to guard or protect in the Eastern Region, or deliberately recruited foreign election infiltrators to prevent from contaminating Ghana's National Biometric Voters' Register. You see, Mr. Suhuyini, that is what real military intimidation tactics are about.
But, of course, in the dirty and mendacious playbook of the sometime broadcast journalist who once asked a female talk-show host to peel off her undies, so Mr. Suhuyini could take a peek at where babies come from, none of the preceding ever happened. Like his fellow northern descended but better-known journalist, Mr. Manasseh Azure Awuni, wanton acts of corruption committed by Little Dramani are all to be taken in stride as a sheer matter of course. It is only when such morally and politically damning foibles are attributed to Abominable Kabongas like Nana Akufo-Addo that such acts are deemed to be deserving of banner news headlines. So much for the shameless practice of bloody hypocrisy and double standards.
Mr. Suhuyini also needs to look Ghanaian voters and eligible voters in the eye and tell us why Little Dramani has been fiercely fighting Nana Akufo-Addo, who, according to the Tamale-North's NDC-MP, has absolutely nothing to show for the humongous debts that the Akyem-Mafia Capo has been blindly and indiscriminately piling up for future Ghanaian leaders and citizens, to be ceded the lion's share of the credit for Nana Akufo-Addo's fee-free Senior High School System. It would also be interesting to learn from Mr. Suhuyini what the picture on the ground would look like, if President Addo Dankwa Akufo-Addo were to really have something to show for his massive human-resource development of the country. The man who, in the witty observation of a northern-descended Ghanaian admirer of Nana Akufo-Addo, could not even supply a candle or a hurricane lamp, let alone flashlights to Ghanaians wracked by four-and-half years of Dumsor, would now have Ghanaians believe that he, somehow, has the intellectual capacity and professional expertise and the vision to create jobs in ways that would make President Akufo-Addo seem like a political pauper or mendicant.
Well, let Little Dramani preach his newfound Gospel According to the Greenbook to the Akufo-Addo-rescued members and executives of the Mahama-created and Akufo-Addo-liquidated Unemployed Graduates' Association (UGA), or was it Unemployed Graduates' Congress (UGC)?
*Visit my blog at: KwameOkoampaAhoofeJr
By Kwame Okoampa-Ahoofe, Jr., PhD
English Department, SUNY-Nassau
Garden City, New York
September 22, 2020
E-mail: [email protected]