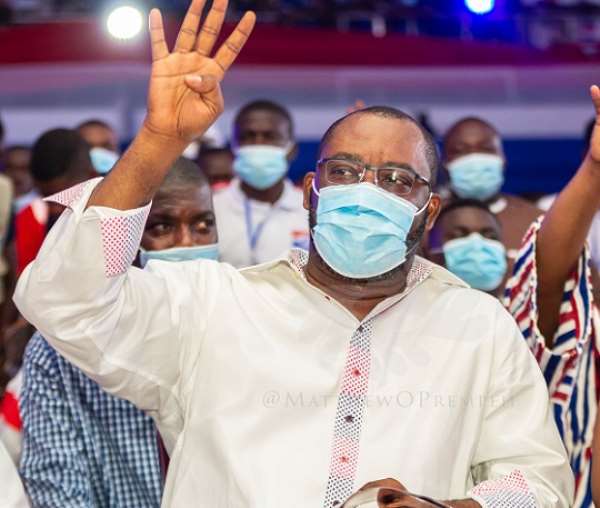 Napo making the NPP's famous 'Four more for Nana to do more' gesture
Education Minister Dr Matthew Opoku Prempeh, aka Napo says if there is any leader who is 'Sakawa' (deceptive) it should be former President John Mahama.
Napo, who is the Member of Parliament (MP) for Manhyia South in Kumasi, has consequently admonished the electorate to vote against Mr Mahama and the NDC, stressing that they do not have the wherewithal to manage the affairs of state.
Mahama 'Sakawa' Comment
In his address at the Great Hall at KNUST in Kumasi, Mr Mahama labelled the decision by the Akufo-Addo government to cut sod for projects, with barely few months to elections, as 'sakawa' to deceive voters.
He had earlier tagged the people of Akyem, where President Akufo-Addo belongs, as 'sakawa'.
Napo, whilst addressing his party members during the inauguration of the Ashanti Regional NPP youth wing campaign team, said: "John Mahama and the NDC are 'sakawa' so Ghanaians should reject them on December 7."
According to him, the massive developmental gains that the country has chalked up under the Akufo-Addo administration in less than four years will be reversed if the incompetent NDC wins political power.
"The NDC is 'sakawa' government and you cannot trust it to properly manage the country," the Manhyia South MP said, adding "a vote for President Akufo-Addo and the NPP is for progress and development."
House-To-House Campaign
"The NPP youth wing is the heartbeat of the party, therefore, you should lead the house-to-house campaign exercise so we can win massive votes to enable President Akufo-Addo to continue to add up to his already successful government," he emphasized.
Campaign Logistics
Napo also stressed the need for the leadership of the NPP to make campaign resources available to the NPP youth wing so that they could enter every household and corner in the country to preach about the NPP's good works for votes.
Napo, who spoke about a wide range of pressing national issues, said the country was currently on the path to prosperity due to President Akufo-Addo's positive policies so the NPP administration should be retained in power.
The programme was attended by Majority Leader Osei Kyei-Mensah-Bonsu, Simon Osei-Mensah, Ashanti Regional Minister; Henry Nana Boakye aka Nana B, NPP National Youth Organizer, and other party bigwigs.
---Daily Guide