The EC Of Ghana Will Not Joke With The Faith Of Ghanaians - Mrs. Slyvia Annor To Mahama
We Are Fair And A Just Commission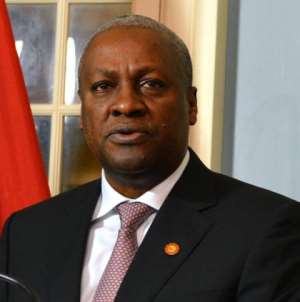 On Wednesday, September 23rd, 2020, Mrs. Sylvia Annor the Public Relations Officer of The Electoral Commission of Ghana was on GN RADIO UK Morning Show: THE FACTS AND THE TRUTH to talk about the Voters Exhibition Exercise.
On the Show the host Dr. REN asked her if the EC is incompetent.
In answering Mrs. Sylvia Annor emphatically said NO!
When asked if she has heard the utterances made by Former President Mahama:
"I am cutting short my tour of the Bono Region to return to Accra because of the increasing reports of challenges with the voter register and the exhibition process. We'll address a major press conference on the issues in due course".
Mrs. Annor said the claim by Former President is NO NEWS AT ALL and that the exhibition is done to clear all anomalies in the voters register.
She further elaborated that, this is not the first time an exhibition has been done.
Everything is normal at the moment and that Ghanaians abroad shouldn't be worried as the EC is doing its mandated duty.
The question here is what is exhibition of the Voters' Register meant for?
The law provides that the voters register be exhibited for all registered voters to check and verify whether all thier details are correct with the view to rectifying all anomalies and that is what exactly the EC is doing.
So as a registered voter if you go to the exhibition centre and you didn't find your name or there are errors in your name , it is NO NEWS AT ALL.
Again i would say this is not the first time the EC is conducting such an exercise.
The exhibition is to make sure that all mistakes are corrected.
She further added that at the exhibition centre the EC have what is called multiple list and it comprises of persons who have done multiple registration.
For instance some people wanted to test the system for various reasons so they did double or multiple registration so they have been flagged by the EC computer systems.
There's also what is called exceptional list.
This list contains all who were challenged under the pretext that they were not Ghanaians or less than 18 years, or they don't live in the community or constituencies where they wanted to register.
So in the situation where your name cannot be found in niether of the above mentioned ie MULTIPLE LIST or EXCEPTIONAL LIST you shall be given an inclusion form to fill if it is established that you have been registered and you have your registration card available with you.
These are processes that the EC has been employing for a very long time.
All political parties and their representatives are aware.
Our staff are well trained and so there's no cause for alarm for Ghanaians living in abroad to be scared about some utterances or word of attack on the EC.
The perception that people's names have been expunge or deleted from the register are all speculation and not facts.
One goes to the exhibition centre individually and it only that person who can correct his or her mistake.
More so the very first day we started people came out to say over 20,000 voters names has been expunged or deleted from the register who collated all these names?
How did they come to such conclusion?
The EC has integrity and will NEVER DELETE OR EXPUNGE NAMES FROM THE REGISTER.
THE EC TO DELETE OR EXPUNGE VOTERS NAMES FOR WHAT?
EC again gave out another alternative for voters to even check names if thier names are not found on the register.
For instance if for some reason the person register in Kumasi and has travelled to Accra, the EC has given a short code where you text your details to 1422 and all your relevant details on the register will be sent to you and is for all networks in Ghana.
Alot of people are using that service. You either go to the centre or send a text to short code 1422.
Where the machines generated wrong coding this is, where 2 or more people had the same Identification numbers (ID NBRS), there was the need to reprint cards and give unique cards to all the affected registered voters.
So we sent the unlaminated cards to the exhibition centres to the affected districts to laminate and get the affected people by calling them to come for their cards.
While this was going on, somebody recorded them and gave the wrong caption that EC is doing registration after the exercise has ended.
Moving forward we need to disabuse the minds of people on peddling stories which are not factual or untrue.
So to our Ghanaians abroad there is no cause for alarm.
Exhibition is where mistakes are corrected and it started long time ago.
In conclusion Dr. REN asked how safe are staff of the EC and Mrs. Sylvia Annor answered that God is in control and the securities are working hard to ensure that their lives are protected.
Election is a process. Through it all we have been engaging political parties even to the extent of where we print ballot papers and secure boxes, the political parties are always present with their representatives who even run a shift to make sure they are satisfied with processes.
On the durability of EC cards, she said the EC card is for casting ballot and its durable for that.
She ended by saying:
"Finally i say to all Ghanaians that there's no cause for alarm come 7th December we shall deliver a free, fair and transparent elections.
We haven't flouted any laws.
All mistakes are being rectified.
There are Ghanaians who believe in the EC and we shall protect our integrate by delivering A FREE , FAIR AND TRANSPARENT ELECTION come December 7, 2020.
Written by: Dr. REN (Broadcast Journalist at GN Radio UK🏴󐁧󐁢󐁥󐁮󐁧󐁿)