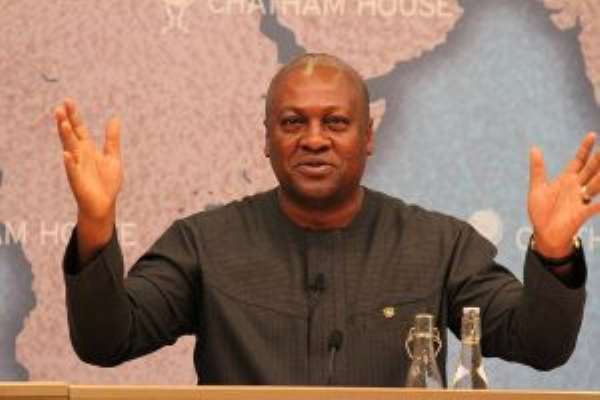 I love it, when Ms Fatima Abubakar, the Deputy Communications Director at the Presidency, of northern extraction from Moshe Zongo, tags former President John Drama Mahama as John Mortuary man or Mahama Mortuary man. How has he come to earn this hilarious nickname, one may ask? It is all about his promise to build every Zongo in Ghana one mortuary where the dead from the Zongo community will be kept pending burial.
It must be noted that in Ghana, the Zongo residents are mostly Muslims. Muslims do not normally preserve their dead bodies in morgues for days, weeks or months unlike Christians and others but bury them same day, all things being normal and working out according to their adhered religious principles and beliefs. Unless a Muslim dies by accident or under suspicious conditions warranting investigations and autopsy, they are buried within hours of their death. Subsequently, it is a taboo for their bodies to be preserved in the morgue hence the thoughtlessness and irrelevance of constructing a mortuary for each Zongo community throughout Ghana as espoused by aspiring presidential-candidate John Dramani Mahama.
When you run out of ideas or have none, the devil will find nonsensical and laughable ideas that will make you appear stupid and unreasonable in the eyes of intelligent persons, for you. This is what the devil, the master of the NDC fraternity, has dangled before John Dramani Mahama, appearing to him as noble and he, jumping to embrace it as though it is golden, to be presented to the Ghanaian Zongo communities.
Anyway, I understand the NDC manifesto for election 2020 was compiled after consulting with, and listening to, the people of Ghana hence calling it "The People's Manifesto". If it is so, may I ask if the Zongo people in Ghana asked for provisions of mortuaries other than job-creation and human resource development projects?
To my fellow Ghana Zongo people, do you prefer mortuaries to the farsighted developments being realised in your communities by President Akufo-Addo and his NPP government? At least, forty of the Zongo people have been sent to Cuba by the NPP government to be trained as medical doctors. Information technology centres, Arabic schools, etc., have been, and are being, built, in the zongos for the overall benefit of the Zongo residents.
Do the Zongo communities, the so-called, and known power-base or bank, for the NDC to run roughshod over to come to power, prefer the promised construction of mortuaries by John Mortuary man and his NDC government to the real development projects being provided them by the NPP government of His Excellency the President, Nana Addo-Dankwa Akufo-Addo, alias Addo Showboy?
Much as most Zongo residents are NDC fanatics, sympathisers and supporters, I shall appeal to them to wise up, not to allow themselves to be fooled any longer by the incompetent one, Papano, who is additionally a presumptive Mortuary man without cogent ideas in this 21st Century civilization era.
Fatima has made my day. Subsequently, she must already be seen as a member of "Operation Dump Mahama". All Zongo residents who prefer actual life-changing developments under Nana Akufo-Addo to construction of mortuaries under John Dramani Mahama are also considered as active members of the movement "Operation Dump Mahama"
Mahama and the NDC are not fit for purpose. They are natural disasters ever happened to Ghana. Whilst the NPP are implementing One District One Factory, One Village One Dam, Free Senior High School education, etc., the NDC are campaigning on providing One Zongo One Mortuary. Laughable though!
A word to the wise is sufficient and once bitten, twice shy., Ghanaians must bear these proverbs in mind when going to cast their vote on 7 December 2020 to elect their president and parliamentary representatives.
I dedicate this publication to my late best friends, Kwadwo Mahamadu and Mahama Bello, both of Kumawu zongo. May their souls rest in peace.
Rockson Adofo
Wednesday, 23 September 2020