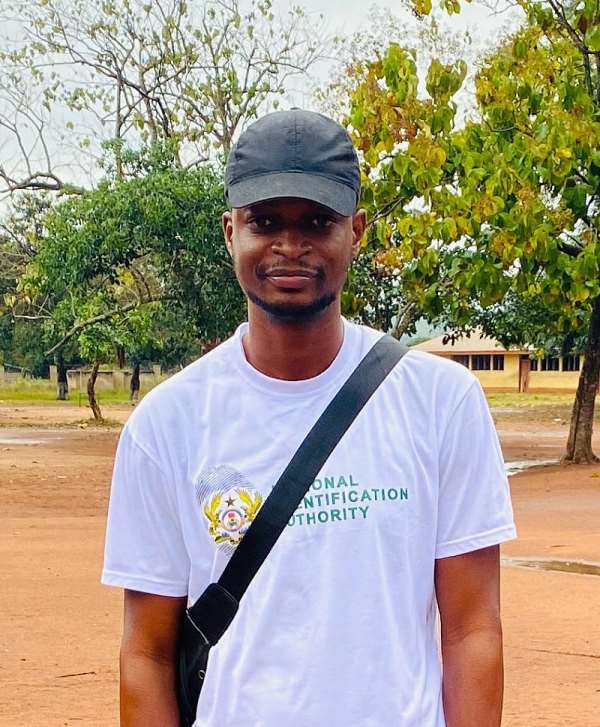 In recent past few years, the sound of the siren to national duty compelled us to tighten our belts for action. Our task was to enroll Ghanaians onto the National Identification System (NIS) and issue them the Ecowas Identity Card.
To many; it was a great opportunity to selflessly serve the country as a way of contributing their quota to national development. To some; it was an avenue to explore adventure. To others; it was both national interest and adventure, while to the bad nuts; of course it was an opportunity to serve their various parochial interests.
We believed we had a part to play in the efforts being made to position Ghana in the best way possible to harness the global opportunities knocking at our doors. This was a period where a national exercise had failed on twice attempts (in 2008 and 2015) despite huge budgetary allocation. For that reason all eyes were keenly following us, considering the fact that tax payers' monies had been allocated for a project that have failed twice in recent years. To some of us, this was our motivation.
As young and passionate cadres, we took up the task fearlessly, bearing in mind that someday we will hit our chest to the next generation that "we were the heroes who made the Ghana Card project a success". Unfortunately, the weaker ones died along the journey and the anxious ones also dropped along the way. It took 'serendipity' for the rest of us to make that long-awaited difference- the journey to greatness. To many it is the 'invisible hand of God'.
Lessons
Along this journey to greatness, we saw young talents specifically in rural Ghana being wasted due to lack of a practically working system to provide the necessary and timely opportunities to absorb, manage and harness these dreams and talents. Mind you, rural Ghana is noted to be the key producer of agriculture produce which is the backbone of the country's economy they say. However, they are deprived of their share of the national cake. Should geography or place of birth determine the success of individuals?
Ideally no. Yet, this is the case in rural Ghana where basic education and health is 'nothing to write home about'. However, students there are evaluated the same way as their cities counterparts who have the best learning environment and facilities at their disposal. Consequently, these children are unable to further their education to the next level. Therefore, their future dreams are curtailed by teenage pregnancy, early marriage and child labor.
This could be attributed to the fact that these adolescents lack people to look up to (role models). Let me hasten to add that, colleagues who died along the journey could have been saved if location at that moment found them in Accra or Kumasi. This suggest that be best doctors and best healthcare are all concentrated in the cities to the disadvantage of the rural folks. No wonder young professionals are reluctant in honoring postings to such areas after school. These young professionals also forget that, it is the struggle and hard work of these rural folks that subsidized their cost of education to become what they are today. It is therefore worrying that these rural folks are left to their fate at the time they also needed to benefit from the fruit of their labor.
The people
Life along the journey gave most of us the opportunity to appreciate culture diversity as well as some behaviors and traits of the people. Without prejudice, our experience along the journey clearly rejects the so called notion that "northerners are difficult people" which once upon a time in Ghana led to the sacking of a minister of state. I must say that life and work up-north along the journey was smooth due to the understanding nature of the people. When it comes to hospitality and kindness, the Volta region was superb. Just don't hurt them. Ashanti Ghana was great with respect to hospitality and kindness as well.
However, some of us had a tough time working with the people. To my utmost dismay, the difficulty had to do with the elite class and adherence to simple instructions at the center. In fact, Eastern region was perfect just like Volta. We also witnessed various degrees of extortion in the other regions where we had to pay rent three times the original fee for a room and also pay about double the price for other items like food and so on. Probably, they felt we are government people and therefore we have the "cash". These are the same people who accuse government officials and politicians of corruption, meanwhile they are also engaged in the act in their own little way. One can imagine what will happen when such people are given grand opportunities. Your guess is as good as mine.
The dark days
Nearing the end of the journey, we witnessed periodic dismissals of some officials following bad reports and scandals. This was justified because the integrity of the assignment was at stake and needed an immediate facelift. However, it is worrying that some of this later day dismissals were unfair and harsh considering the level of offenses that called for it. It important to know that, some of the offenses were highly pardonable. In fact, these were are young men and women who sacrificed all they had including their relationships to work sometimes under harsh environmental conditions. Some went to the extent of putting their heads on the chopping board for the nation and the assignment in times of difficulties, and therefore deserved some minor punishments. Probably the number of field officials on the assignment were more than the number of potential permanent appointment positions after the exercise, and there was the need for 'pruning' - my candid opinion. As a result, this period saw kotowing and bootlicking to the extent that it took only the few brave ones to speak truth to power. This is a clear indication that, most people are willing to trade truth and justice for livelihood due to high graduate unemployment rate in the country. The dark days were full of fears and anxiety as everyone wanted to justify his or her inclusion in the anticipated permanent appointment after the assignment. Anyways, this fear factor also compelled the lazy ones to work hard and diligently which is plus.
Way Forward
The journey was characterized with mixed varied ranges of experiences and encounters. Some were very challenging, while some were also pluses. It is however gratifying that we finally made it. The onus therefore lie on us to reflect on this great experience encountered along the journey for a better tomorrow because "the inactions of those who should have acted, the indifference of those who should have known better, the silence of the voice of justice when it mattered most; have made it possible for evil to prevail" (Hailel Selassie).
Moving forward, such future national assignments should establish medical screening and short-term physical military training prior to the general operation. By doing so, the weaker ones would be filtered and assigned favorable tasks within the operation.
This will go a long way to prevent future loss of field officials in similar national assignments. Also, our leaders must adopt the "growth pole theory" approach to infrastructure development; where developments are planted in a scattered position across space. Consequently, each growth pole will automatically spread development to every area. This will go a long way to address the geographical disparities in development across the country.
I must say that Ghanaians are noted to be very hospitable people. Nevertheless, this trait is gradually fading out due to various factors such as terrorism, kidnapping, scam, robberies, just to mention a few. As a result, we are very skeptical in receiving strangers and visitors into our homes which was not the case in the past. Fellow Ghanaian, I strongly believe that despite this 21st global challenges we can still let love lead. When love leads, we will not make abnormal profits to the disadvantage of a fellow Ghanaian. When love leads, our leaders will always make sure the people improve their living standards. When love leads, we will be selfless in all our dealings. Although this may be difficult to achieve due to greed. We must also see every moment as the 'dark days' and work diligently with integrity wherever we find ourselves as cadres, while our leaders must also find a more suitable way of trimming the human resource base moving forward.
I am very optimistic that; we have a task to make a difference someday when we get the opportunity to lead, considering the experiences we gained along the journey, else posterity will surely not forgive us.