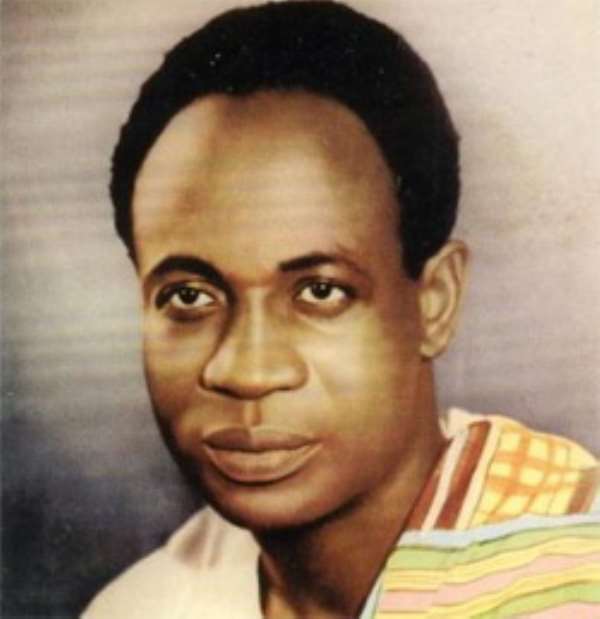 It is a bugger and ineffable to say that more than 50 per cent (%) of Ghanaians do not know 21 September, is the birthday of Dr Kwame Nkrumah which (that day) doubles as founder's day, which also makes today Monday 21 September a public holiday, some years ago media stations like Joynews, CityTV etc went out to the streets of Ghana to find out what makes today a holiday but most Ghanaians didn't know, what a shame! and
It is said that 'when you don't know where you are coming from you definitely will not know where you are going'.
In 2018 around this time there was a brouhaha about who the founding father(s) of the modern-day GHANA is(were)? Is it the members of the UGCC or CPP( Nkrumah)? Their mottos UGCC: "Self government within a shortest possible time" and CPP (Nkrumah): "Self government now", well! Who is the founding father? Leave it there don't waste your time dividing the youth.
In the history of societies, there comes a critical turning point when things fall apart at the centre, so to speak, a person emerges destined to lead his people towards a way of salvation. The first president of Ghana, Osagyefo Kwame Nkrumah born on 21 September 1909, who at a very crucial time emerged to rescue the people of the Gold Coast from British colonial cave through a successful social revolution.
This revolution started in 1949, which culminated in political independence on 6th march 1957 being the first black African nation to free his people from colonial rule and this served as a lighting sword for firing up the struggle against colonial rule throughout Africa.
Nkrumah was a pan_africanist who see and will see to it that his people and all other African countries are liberated, this transcended together with Padmore, the 5th Pan-African Congress held in Manchester, England, in October 1945, that congress defined and clarified the ideology of pan-Africanism as an anti-imperialist concept and a socialism builder and at that congress, a resolution drafted by Nkrumah was adopted, search to read the resolution, brilliant resolution.
Also, although ideologically a pan-Africanist, played a pivotal but unintentional role in entrenching colonial-era borders in Africa to shaping the law of self-determination in Africa: He first makes sure that by actively campaigning against 'tribalism' in Ghana; second, by enlisting the UN to prevent the secession of Katanga in 1960, thereby creating a crucial precedent; and, third, by playing a leading role in establishing the OAU in 1963, In this way, Nkrumah helped settle arguments around the authentic self-determination unit in Africa, forging an unintended legacy that continues to shape the legal and political contours of the continent to the present.
Nkrumah laid a strong foundation to served as a pivot of development in Ghana but because of greed and selfishness all is been throw into the bargain now eg some developmental projects of the Legendre (Nkrumah) are
The building of the harbour, Tema motorway and new township of Tema
The construction of the hydroelectric Volta dam at Akosombo
Nkrumah suppressed sectionalism and tribalism in Ghana and brought a sense of. national unity among Ghanaians.
The development of a progressive housing project scheme.
Construction of the best nation's hospitals like Komfo Anokye and Korle bu.
build and develop educational institutes like UCC, KNUST, UG many polytechnics and secondary schools across the country etc.
What makes the others UGCC members names arguably fade out of the founding father(s) of present-day Ghana and now left with Dr. Kwame Nkrumah alone is that according to David Rooney a historian and author said Nkrumah roused the youth with his "fiery oratory, slept on their verandas ..shared their hardships..captivated them with charm, enthusiasm and passion. He inflamed the people with demands for self-government now".
This was what the leadership of the United Gold Coast Convention lacked. They were unable to relate to ordinary people and their views on political change were.
Notwithstanding his great achievements some still hold the views against him(Nkrumah) of progressively running down Ghana's economic gains at independence, gagging the press, curtailing the freedom of speech and being an authoritarian and wanted to put Ghana into a one-party state which I believed it was better because these NDC, NPP, CPP and a lot of others who only come into government to nag on each other's shoulder and abrogate constructs start by their predecessors, this is a canker that chop down development in Ghana I think legislative instrument should be passed to stop this.
It takes a great man to come out with something like September 2009, President John Atta Mills declared 21 September (the 100th anniversary of Kwame Nkrumah's birth) to be Founder's Day, a statutory holiday in Ghana to celebrate the legacy of Kwame Nkrumah.
I think that is high time we came together as people to reject vision fewer parties and leaders who don't think like Dr Kwame Nkrumah who make sure the national cake is shared evenly and fairly because other regions like upper west, east and Volta etc are the least developed with a very bad roads construction and network, this is not the visions of Nkrumah and the Ghana he wants for us all, in fact, we need legislation on this, vote_out incompetent parties and leaders.
*#Sinto_stands_for_justice*
By Sinto Baluri Abdulai
0554701987