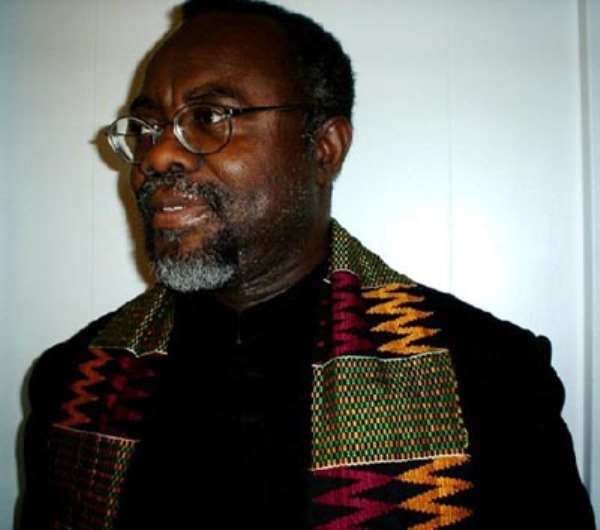 It takes a humongous dosage of Satanic Arrogance of the witch-hunting and killing sort, for any self-infatuated megalomaniacal politician to scandalously assert, as Little Dramani did recently, that God would be very wicked to afford Ghanaian citizens and the electorate another four years of the visionary and beneficent stewardship of President Addo Dankwa Akufo-Addo. That Little Dramani is Satanically Arrogant Man is, of course, an incontestable fact of Fourth Republican Ghanaian Politics, an open secret, to be certain. This is the same politician who criminally scammed the Ghanaian taxpayer to the behemoth tune of $ 300 Million (USD), by entering into the most epically stupid contractual compact with the South Korean construction company by the name of STX, a real-estate construction deal that never materialized.
In another more civically responsible country that more fully appreciates the significance of law, order and justice, Candidate John "Airbus-Kanazoe" Dramani Mahama would be smack behind bars and serving a lifetime prison sentence. In yet still another, Ghana's Biggest Thief, according to the Forbes' List of the Richest Ghanaians, our Most Payola-Prone "Politrician" would since long have been executive by firing squad. We know the preceding for a fact because Chairman Jerry John Rawlings, Ghana's longest-ruling Strongman cum Elected President, has confessed time and time again that if he had known that he would be producing two generations of kleptocrats and pathologically corrupt political thugs like John Mahama, his former Communications Minister, Mr. Rawlings would have spared the lives of Generals Odartey-Wellington, Akuffo, Acheampong, Afrifa, Utuka, Amedume, Boakye, Kotei and Col. Felli.
In recent years, Mr. Rawlings has incessantly maintained that "The Generals that I executed were not nearly half as corrupt as John Mahama." So, it is rather absurd for the man who racked up a Judgment-Debt giveaway of an estimated $ 800 Million (USD) – the real figure could be at least twice as much – to assert that God, Mr. Mahama prefers the more grandiloquent "Divine Providence" – would be wicked to, once again, bless Dumsor-fatigued Ghanaians with four more years of the responsible and visionary leadership of President Addo Dankwa Akufo-Addo (See "God Has Already Saved Us from You – Bawumia Replies Mahama" Ghanaweb.com 9/18/20). Is Little Dramani hereby implying that destroying the overwhelming majority of Ghanaian businesses with Dumsor was the best thing that ever happened to our country?
It is also interesting for the man who destroyed the chances of our children and grandchildren for a brighter future via a fee-free access to secondary education to be making the scandalous and heretical claim that it was Divine Providence, in His "Inscrutable Wisdom" who inspired him to vehemently oppose Nana Akufo-Addo's godly, visionary and morally righteous decision to implement the fee-free Senior High School Policy Initiative. It is also teachably and/or instructionally clear that Candidate Mahama and the hoodlum likes of Messrs. Isaac "Shit Mouth" Adongo-Frafra, Samuel "Western Togoland" Okudzeto-Ablakwa, Kwabena Mintah Akandoh, Johnson Asiedu-Nketia and Samuel "The Kidnapper" Ofosu-Ampofo, among a legion of other key operatives of the National Democratic Congress (NDC) and their followers and minions, worship a very different god from the rest of us progressive-minded bona fide Ghanaian citizens.
Then also, what could possibly be the ways of a god who motivates his followers to thoroughly bankrupt the John Agyekum-Kufuor-established National Health Insurance Scheme (NHIS) be about, but the Satanic destruction of innocent Ghanaian lives and our very Motherland, and Fatherland well? Then also, what kind of god would instruct a President of the Sovereign Democratic Republic of Ghana to put down or exhibit gross contempt and abject disdain for the very people who cast their ballots for him to accede to the Presidency, only to turn round and thumb his nose at his very Electors by rudely ordering the latter to literally shut up their big, ugly mouths and stop calling his abysmal job performance into question, because none of these Electors have ever been elected President before and can therefore not be expected to half fathom what it takes to administer the affairs of our country as the bona fide President of the Sovereign Democratic Republic of Ghana?
A President who thinks that Dumsor was the best thing that ever happened to the infrastructural development of Ghana; and that rather than put Dumsor to flight, deservedly, Ghanaian entrepreneurs or private business owners, if they were smart and imaginative, would suavely design their daily work schedules around the salutary "hi-tech" program of Dumsor?! Now, Dear Reader, tell me, whose God/god looks and sounds more like a wicked god? The "Akyem Mafia" God of Nana Akufo-Addo? Or the Dumsor-god of the Gonja Witch-Hunter, viz., John "Airbus-Kanazoe" Dramani Mahama?
*Visit my blog at: KwameOkoampaAhoofeJr
By Kwame Okoampa-Ahoofe, Jr., PhD
English Department, SUNY-Nassau
Garden City, New York
September 19, 2020
E-mail: [email protected]