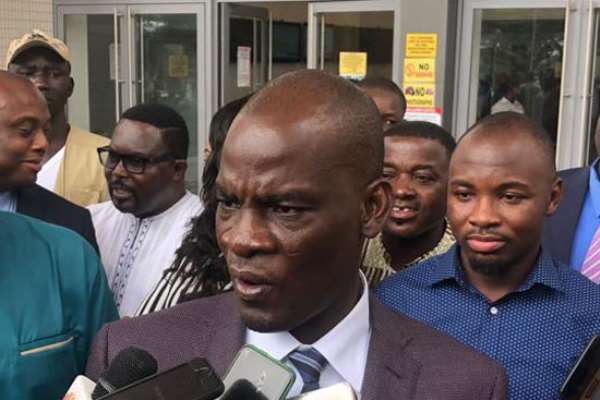 The Minority Leader of Parliament, Mr Haruna Iddrisu, has said there are some anomalies in the new voter roll which is being exhibited across the country.
The Tamale South MP, who has been monitoring the exhibition exercise in his constituency, told journalists that at the Banvim Presby area, for example, only 555 out of the 769 voters captured during the registration exercise, have their names on the roll.
"There are major discrepancies in the register and in what has been made available to registered voters," Mr Iddrisu said.
He said he has "requested a national compilation of these discrepancies in order to guide what will be the next possible action."
Mr Iddrisu also said: "My significant disappointment is that the BVDs are conspicuously absent, yet, we have provided adequate budgetary allocation for the procurement of BVDs in quantities not less than 7,500."
The Minority Leader said he expected the exhibition exercise to have been done with the "availability, presence, use and testing of biometric verification devices."
"Ideally, every polling station must have a BVD," he said.
Meanwhile, EC Chair Jean Mensa told journalists at a press conference on Thursday, 17 September 2020 that: "During this period of exhibition, the physical copies of the 2020 provisional voter register will be placed on all 33,367 exhibition centres to enable prospective voters verify their details as captured during the registration exercise and will request amendments or insertions where necessary".
"It is important to note that all persons who registered at the various district offices must go to the assigned polling stations during the exhibition exercise and not the district offices.
"The Commission will also display an exceptions list, comprising the names of registered voters, who have flouted the regulations of the registration exercise.
"The persons on the exceptions list cannot vote in the upcoming election.
"The Commission will also display the multiples list", she added.
She explained that: "This contains names of persons who have engaged in multiple registration and, therefore, cannot vote in the upcoming elections".
She noted that voters who have already lost their ID cards can still verify their details.
"You can still check their voter registration details if you cannot find your ID card. Once you're registered voter, your photograph and details are captured and will be displayed in the register. Note, however, that being in possession of the card, makes it much easier for you to check your details on the register", she added.
---classfmonline