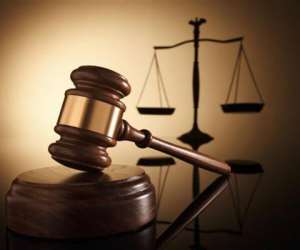 I have frequently asked myself if the laws of Ghana are principally aimed at prosecuting only people who are caught in criminal acts, found of embezzling public funds, and the few common faults we know.
Prior to my university education, I had heard many express their displeasure and concerns on how they were mischievously punished for no fault of theirs during examinations and after. Some expressed their sentiments on their inaptitude to have results reflecting their hard labour due to sexual encroachment from niggardly, vulgar and dishonourable lecturers whose proposals were turned into a filthy pit. These were just mere stories on my mind and I wondered how true, realistic and practical it could be in the Ghanaian society until I was gracefully given admission into the university.
This issue of female student being sexually harassed inevitably and facing the consequences alone and sometimes with her male friend tagged as "boyfriend (fiance`)"is very nauseating, sickening and disgusting. But this issue has been given minimal attention in the country. So I ask again; WHERE ARE THE LAWS AND AGENCIES TO PROTECT SUCH VICTIMIZED STUDENTS?
Many will play the blame game by accusing many of these young and vulnerable female students of being the sole cause for their plight in the university, but sincerely speaking, most of our ladies are not the cause but rather those psychopath lecturers who cannot close their eyes on everything seen in brazier and skirt. A female friend came and confided in me what she has been going through on campus since a particular lecturer set his eyes on her. She said" the lecturer has been pestering her to be her girlfriend (side-chick ) and should forget about bothering herself to study his difficult subject because when she accepts to be with him, her A is assured. She couldn't count the numerous times this lecturer has been calling her into his office trying to seduce and harass her. She lamented that she had always been afraid this particular lecturer will trail her because she has been refusing to pick his calls and go to his house when he demands. She has had an "E" in his paper before and the only apparent reason given by the lecturer for such grade was that she has been stubborn".
So I go further to ask… Till when will our students continue to suffer in the hands of these old Nebukardnezers and Pharaohs? Are our legislative council aware of this mean and ill-treatment our girls are going through?
The lives of both the university boys and girls in the hands of lecturers matter. Some responsible female students who are culprits in this act have reported to their parents but the fear of the repercussion on their wards performance deters such responsible parents from taking action against such lecturers, so they end up taking it to the Lord in prayer. Many are afraid to come out to tell how they are being abused for the fear of the later consequences since our country has failed the generation by refusing to put in laws and agencies that will protect students during and after reports are made against these lecturers.
Not to leave the University boy out of this crucial matter, many of them have been punished and failed in examinations because a married lecturer accuses them of flirting with their supposedly girlfriends and claiming they are the main cause of their inability to win the heart of these ladies.
Being sexually harassed can have devastating effects on a person's physical well-being, psychological health and education. An individual may experience these problems:
Psychological – depression, denial, anxiety, shock, anger, frustration, fear, insecurity, embarrassment, shame, guilt, self –blame and isolation.
Physiological – headaches, lethargy, weight fluctuations, nightmares, panic reactions and sexual problems.
Career- decreased satisfaction, absenteeism, withdrawal from school, and drop in academic performance due to stress.
It is against this emerging canker in both private and public universities that we urge the government and policy makers to be more sensitive and put in drastic measures to protect students' right and freedom of education in our various universities. There should be structures put in place to enable students seek redress without any future repercussions.
The Gender Ministry, CHRAJ and other cooperate bodies should collaborate in helping abort this immoral acts gaining roots in our institutions of studies. The autonomy of the various universities should be limited in matters like this that are very inimical to one's well-being.
THE LIFE OF THE UNIVERISTY STUDENT MATTERS
THE CHRAJ SYSTEM MUST WORK TO PROTECT STUDENTS
ENOUGH OF THE UNFAIR TREATMENT IN OUR UNIVERSITIES.
OUR LAWS MUST BE SPELT OUT WELL AND WORK TO REDEEM STUDENTS FROM THE OPPRESSORS RULE.
God bless mother Ghana.
By: Tertiary Students Advocacy
Contact: [email protected]