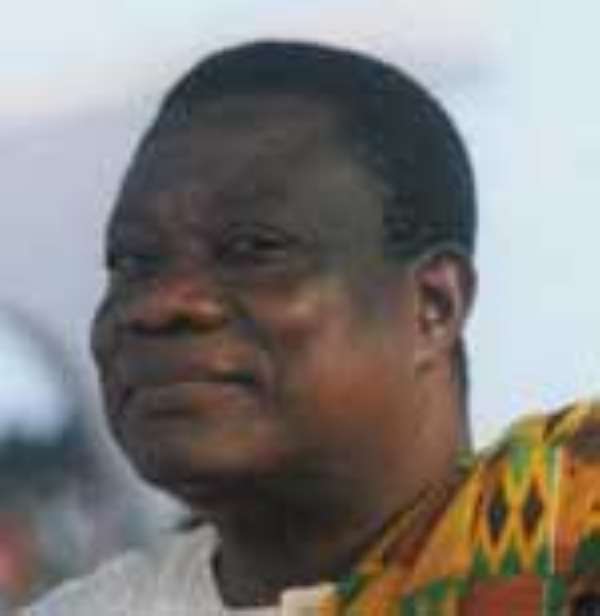 Aspiring NDC presidential candidate Dr. Ekwow Spio Garbrah says the party will have to conduct a survey to find out what exactly Ghanaians want in their president and adjust to the feelings of the electorates should congress give former Vice President Professor John Mills a third chance to lead the NDC to the polls.
Dr. Spio Garbrah who has been insisting on the replacement of Professor John Mills after his rejection in 2000 and 2004 warned that failure to do this will result in another defeat for the party.
Speaking in a follow-up interview after his formal declaration of interest in the NDC race, the former Communication and Education Minister told the dailyEXPRESS that he believes strongly that the NDC needs a new face who appeals to all sections of Ghanaians.
"Being aware of the qualities Ghanaians want to see in their next president and knowing that we lost elections in December 2000 and December 2004 partly because the majority of Ghanaians did not find the candidate we presented acceptable to them, it only makes sense that the NDC should consider a new, fresh, dynamic, more youthful but experienced candidate.''
According to him, despite his harsh but true statements about the Professor and the chances of the NDC, he will be ready to work with the team to ensure electoral victory for the NDC in 2008, only if he'll be asked to assist.
"He would have a campaign team and will choose those members of his campaign team. In the past I have been a member of his campaign team; if he chooses to ask me to help him I will give him my advice. But in the past my advice has not always been followed. So it's not easy to know exactly what will happen but if I am asked to help, I will help."
The NDC's congress to elect a flagbearer has been scheduled for Saturday December 16, with four candidates so far confirming their participation. They include businessman Edward Annan of Masai Developers and former Presidential adviser on governmental affairs and Defence Minister Alhaji Mahama Iddrisu.
The former Communications minister who has been doing a lot of talking, selling his candidature and branding himself in the media since returning home a few weeks ago says he is also on the ground and campaigning among the delegates.
Reacting to news reports that his failure or refusal to vote in the 2004 elections also played a part in the NDC's defeat, the former ambassador to the US said it is not true that he did not vote. According to him, while people within his party would have loved him to come to Ghana personally to cast his vote, it is inaccurate to suggest that he did not vote
"I couldn't vote from the United Kingdom because again, the ROPAA just came into existence. But I made arrangements for a proxy vote through someone else. And my assumption is that the person voted on my behalf."
He added further that: "I think their beef was that they would have liked me to come down to Ghana, be seen either campaigning…but I was actually committed to the party. But I think commitment to a party is shown in variety of ways; voting and electing executives is important, but there are those who help the party through financial contributions but don't get involved in active campaigns; there are also those who run around but don't have financial resources to provide; there are those who write strategic papers but cannot provide money or cannot run around. So one has to take everybody's contributions based on what they can offer."
Rubbishing claims in some pro-NDC newspapers about his involvement in party affairs, Spio Garbrah said "in my case, I was somehow the lead officer along others to prepare a 25-page strategic document which was bequeathed to Prof. Mills to help him with his campaigns. So if that document was used or had been used, the ideas that I have would have been visible in the campaign… but I have made my contributions towards Prof Mills' campaign in various ways including assistance to a number of parliamentary candidates. Even if I was not present in Ghana exactly as people say, first of all through the proxy vote, I made my contributions to the voter outcome of the elections. And more importantly I contributed in various ways including financial mobilization and with ideas and strategy."
With lots of newspaper space and radio/TV airtime focusing on his campaign so far, Spio-Garbrah has also come up for criticism especially over his description and call for the rejection of Professor Mills and indictments of the Kufuor government.
When dailyEXPRESS reminded him about his utterances and the flack he received over his infamous 'Item 13' comment, and the media spotlight on him, the aspiring candidate said while most editors are his friends he also understands that most of them have different political opinions and are interested in maligning NDC officials.
"Many of the editors in the media both TV, radio and print are my friends. But quite obviously, we would have different shades of opinions on matters regarding the politics of Ghana. I don't think that all relationships in Ghana are based on political views and differences… but the truth is that in Ghana today, many newspapers are related to political parties or published by people with political objectives. So when there is a newspaper which has a particular political goal and objectives choose to malign almost every NDC leader or anybody who wants to become an NDC flagbearer, it cannot be too surprising. So I don't think most of us will take these stories seriously. It will be taken with a pinch of salt."