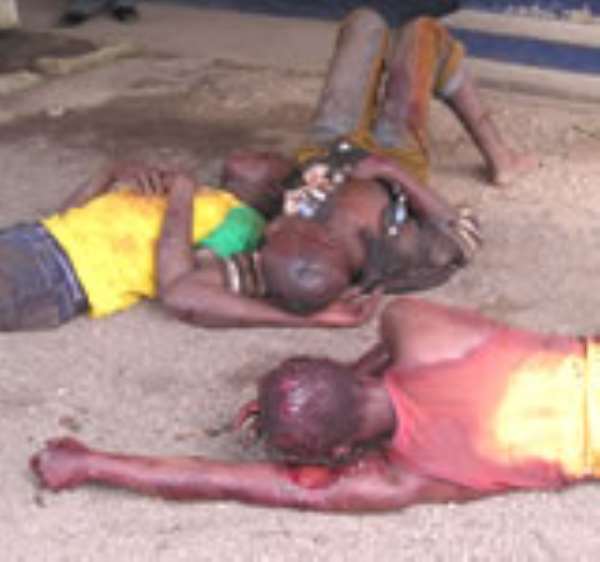 Police have arrested three suspected armed robbers at New Town, a suburb of Accra, early this morning.
Eye witnesses said the suspects, Nanabanyin, Alhassan and Sadat, aka Abalo, and two others, inflicted cutlass wounds on the driver of an Opel Cadet taxi cab with registration number AS 53 66 S and snatched the car from him.
JOY NEWS found the mutilated bodies of the robbers in a pool of blood at the Kotobabi Police Station. A teeming crowd gathered at the front view of the police station shoved to catch a glimpse of the suspects lying on the floor.
The eye witnesses said at about one o'clock this morning, a young woman, suspected to be an accomplice of the robbers, boarded Ibrahim Sulemana's cab from the Goil service station near the Ghana Commercial Bank towers at Kwame Nkrumah Circle to the Accra Technical Training Centre at Kokomlemle.
The suspected female robber paid off the driver and was about to take her change when four of her male colleagues, who were waiting for her at the ATTC area, pounced on the driver, inflicted cutlass wounds on him, dragged him out and absconded with the car.
Mr. Sulemana immediately lodged a complaint at the Nima Police Station. He also informed the owner of the vehicle, Koku Sekou by phone of the incident.
Mr. Sekou told JOY NEWS that luck smiled on him when a friend informed him that the robbers were coming his way through Mamobi traffic light towards Westland Hotel near Kotobabi.
Mr. Sekou, who was also driving in his car, said he saw the suspects in the taxi and chased them. He shouted for help when the robbers got out of the stolen car to bolt on foot.
Neighbours poured out of their homes after Sekou's cry for help and accosted the robbers.
The suspects have since been transferred to the Greater Accra Regional Police station.
The Greater Accra Police Public Relations Officer, ASP Cephas Arthur said the matter will be investigated.