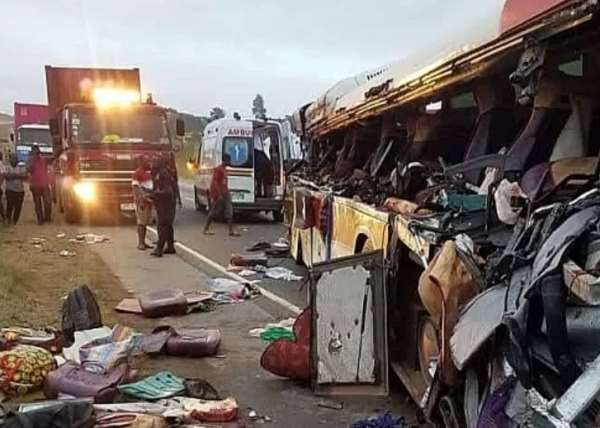 We thought excitedly that Ghana was on the verge of shedding its unenviable 'accident prone' tag until yesterday's bloody incident on the Accra to Kumasi road, close to Suhum, made the headlines. Instructively, there was a similar live-claiming accident near the same location a few weeks earlier.
One worrying feature of the Tema to the Ghana/Burkina Faso border at Paga in the Upper East Region is the constant danger posed by the long vehicles conveying cargo from the Port of Tema to the landlocked countries of Burkina Faso and Mali.
They are masters of the highway, mostly overloaded with their cargo jutting into the sky, the middle of the roads being their preference. Overtaking them is not safe and trailing behind them does not bring comfort to motorists.
They are joined in making the highways unsafe by charcoal-carrying trucks from the Kintampo area. These trucks are also overloaded as cops on highway duties ignore their unusual cargo and the danger they pose.
The Accra to Kumasi highway is such an important road that safety standards must be seen to be observed by law enforcement agents. However, regrettably, that is not the reality.
Seeing these charcoal-laden vehicles always listing dangerously arriving in Accra triggers questions as to how they were ignored by the law enforcement checkpoints on the highway.
Preferring to drive at night, they drive on the centre of the highway in view of their overwhelming cargo. Overtaking them is a parlous venture and, therefore, not advisable.
This is a true reflection of the Accra to the frontier of the country in the Upper East Region which requires urgent action.
The Burkinabe and Malian vehicles must be stopped from plying the highway at night besides observing compulsory rest sessions during their long trips.
The highway under review being an ECOWAS road, as it were, remains by and large a mono-carriageway and therefore dangerous, especially for night and fatigued driving.
We have learnt that an existing law, LI 2180 of the Road Traffic Regulations Act 260, regulates the factors which account for the highway carnage in the country. Unfortunately, the enforcement of such laws is out of reach.
Losing so many human lives the way it happened on the highway under review is unacceptable.
Poor management of safety standards by both motorists and law enforcement agents alongside the non-cooperation of passengers on board commercial passenger vehicles are issues worth tackling.
As for the dualisation of our highways, there is no option to this outstanding safety requirement.
We pray that work on our railway system is expedited so that the Ghanaian travelling public can turn to this rather safer means of transport until our roads are dualised.
Shouldn't such issues vis-a-vis politicians who show the predisposition to tackle them be the theme of national conversation and not the empty promises being peddled?
—Daily Guide