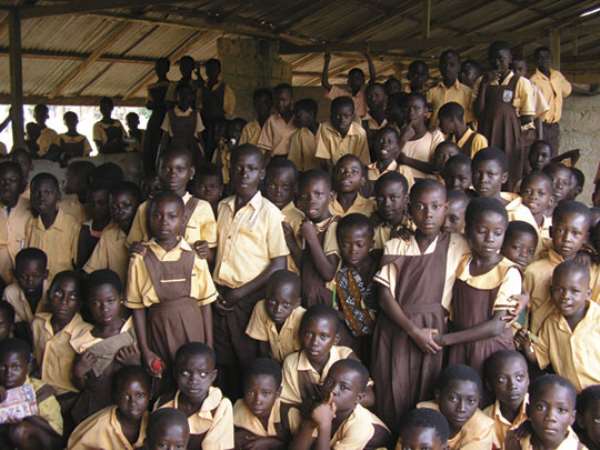 Forty billion cedis is to be spent on the school feeding project from now until the end of the year. About 198,000 pupils in 500 first cycle schools throughout the country are expected to benefit from the programme, which was piloted last year.
Mr Kwame Nuako, Director in charge of monitoring and evaluation at the School Feeding Programme, told the Ghana News Agency in Accra on Wednesday,
He said an amount of three thousand cedis had been budgeted to provide one hot meal for each pupil on the programme.
Mr Nuako said by the end of the last academic year, about 69,000 pupils from 200 schools nationwide had been fed by the programme. "That number has been increased to 141, 800 pupils from 380 schools at the beginning of the academic year, which started last week. "The number would hit 198, 000 pupils from 500 schools by end of the year and the Government would make available 40 billion cedis to cater for the programme from now till the end of the year"
Mr Nuako explained that evaluation of the school-feeding programme for last academic year when it started indicated that it was responsible for an average of 25 per cent increase in school enrolment.
He stated that the evaluation also revealed that retention and attendance rates were higher in schools on the feeding programme.
Mr Nuako explained that as an added impetus, the programme was offering employment to more than 2,500 caterers engaged to cook for the 500 schools.
He said the Programme Directors were working closely with beneficiary district assemblies and communities to sustain it.
"We are planning to expand the programme to meet Government's objective of making every school child happy and also there is a huge cry for the programme in areas where it has not reached yet." 27 Sept. 06