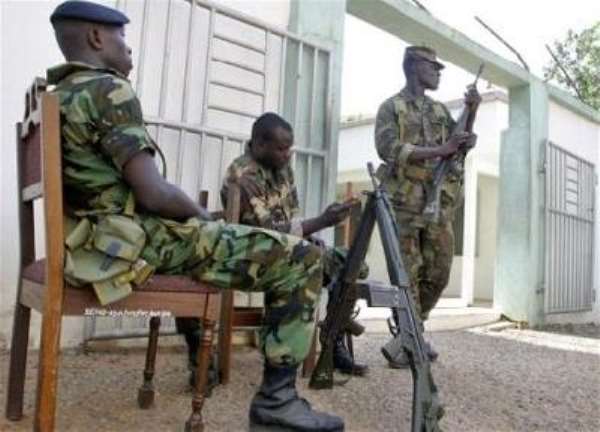 The Ghana Armed Forces, is one institution, noted to be characterised by a high level of discipline, which as far as the general public is concerned is nurtured by the 'hard' training that its members are given.
Being an institution supposed to be devoted to defending the country by air, land and sea, the expectation of all is that its recruitment processes would be devoid of any moves that could create room for mediocrity.
For a long time in our history, the security services have been a major source of sportsmen and sportswomen in this country. This is not surprising, since such disciplines require a high level of discipline.
It is therefore with great expectation that those who know the history of the services in this direction look forward to the annual security services games, for possible signs of national champions emerging.
At one time or the other in our history, there have been allegations of favouritism in the recruitment processes into the security agencies of this country. These allegations have had to do with nepotism, tribalism and cronyism, and have often led to suspicion among personnel of the institutions themselves.
The recent trials for recruitment into the armed forces sports team, saw some strange incidents that the command need to explain to Ghanaians.
The armed forces athletes' recruitment exercise of a fortnight ago saw athletes travel down from all the corners of the country, many of them having gone through hard training to be able to make the mark.
It was therefore disappointing that after some athletes have performed excellently well in the trials that were supposed to form the basis of their recruitment and possible selection into the armed forces, they had to go home without being considered on merit.
Can the armed forces officials responsible for the recruitment of athletes tell Ghanaians why, Lydia Opoku, who had come all the way from the Brong Ahafo Region, was not selected?
Can they justify why the young lady, after she had won the 100, 200, and 400 metres events was sidelined and others selected and invited instead?
Again, another contestant, Aziz Sulemana of the Greater Accra Region, who had contested in the same three events as the lady mentioned above, was also left in the cold after justifying his inclusion.

Do the above-cited incidents give us a clue as to why the armed forces, over the last few years, has failed to produce for the nation the caliber of athletes it used to produce?
Whether it is through nepotism, cronyism, tribalism or a combination of them, it is the country as a whole that gets short-changed.
The Chronicle would like to call on the armed forces high command, to take a critical look at the recruitment processes of personnel into the various departments of the institution in order to end such corrupt practices.