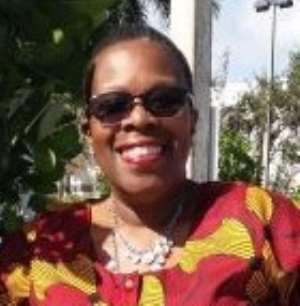 Lehona Owusu-Darko
Since my early childhood in the Caribbean, working life in the UK and current residency in Ghana, I have seen and experienced a disparity between the working culture in the 'western world', compared to other regions of the world. This incongruity is complex and not attributed to any one cause, however, it would be remiss of me not to seriously consider and reflect on the cause, impact and effect of colonialism on the lives of people in Africa and across the globe. This I believe has contributed to the dynamics of a 'world' associated with inequalities, materialism, poverty and health disparities.
This article presents my own views, experiences and perceptions regarding two issues, very close to my heart, relating to change and improvement. Let me first take a few moments to pause and express my recognition and gratitude to the selfless sacrifice and commitment made by our ancestors, towards freedom and emancipation, which resulted in countless lives being lost and brutally taken. With this reflection, I affirm the need, for us to remain resolute and determine, to be vehicles of influence and change towards the promotion of equality and freedom wherever we are.
I have worked as an employee for the greater part of my adult life. Mostly spending the day either preparing for work, working on the job, travelling from and to work or thinking about work after work. I really found the work life balance difficult to achieve, an experience some readers may be familiar with. Although I was on a treadmill for what appeared to be a 'lifetime', a workable alternative to break the cycle appeared to be out of reach because I was not emotionally ready to take the time to plan and change my trajectory. Like so many people, the focus for years was on paying a mortgage, maintaining a property, childcare, maintaining a car and planning towards a pension in retirement. So although life could be described as manageable, the bottom line was that I was living to work and working to live.
Although the working culture in most western societies is not perfect, yet I applaud the legal framework in place to protect workers from exploitation and injustice. There is little room for ambiguity about professional behaviour and work ethic in the workplace. There was strict expectation to adhere to explicit written policies and procedures in relation to organisational roles and responsibilities, accountability, time-keeping, equal opportunity, sickness procedure, complaint and grievance procedures as well as a period of induction. Workers are routinely provided with the tools needed to undertake their role. They are also protected by trade unions and the court or employment tribunals from unfair and unlawful treatment. Employers also have protection against an employee's misconduct and breach of contract.
Having the privilege and experience of living and working in Ghana in 1991 and 1995, I eventually relocated in 2018, relieved to have left a revolving door of working pressures, time constraint and professional bureaucracies. My observation on returning to Ghana was that the landscape had rapidly changed in terms of its' infrastructure, communication networks, political agenda also cost of living. However, the pace of change appeared minimal in terms of the enhancement and improvement of work practices, such as training and empowerment strategies for an expanding workforce. According to current trends, employment has increased in the Industry and Service sectors whilst there has been a sharp decline in the Agricultural sector. But Ghana is still referred to as one of the world's leading emerging economies and also a beacon of Africa's democracy and stability. However, we must not negate some key challenges associated with corruption and unprofessional work practices, which continues to deeply affect and impact systems and personnel, in both the public and private sectors.
Fundamental to a paradigm shift in the Ghanaian working culture is reflecting and taking the necessary actions to address questions like: 'Why should someone be awarded a contract because they are family, well known or internally connected and not necessarily the best competitor? Why should someone be stopped by the police for reasons other than breaking the law? Why should it be the expected norm to turn up late or not turn up at all to work and meetings? Why should someone start a job and leave it unfinished? Why should a person make an agreement and not honour their commitment? Why should someone work without a contract of employment? Why should a promise of meeting up in 2 hours be 2 days or 2 weeks later? Why should someone take pay for uncompleted and poor standard of work? Why are labour laws not enforced? Why is there a malaise and acceptance of poor practice in the workplace? These questions are indeed important and require not just a reflective look at our work practices, but a commitment to change and transformation.
Since the insurgent of the COVID-19 pandemic, The World Bank has approved $315 million from the International Development Association (IDA) to support job creation, skills development and digital transformation in Ghana. The amount included $200 million for the Ghana Jobs and Skills Project and an additional financing of $115 million for the eTransform Ghana Project. The question is: "Is Ghana prepared to implement and use the funds to help promote and establish a functioning Labour Market?" Without an overhaul of the work culture, the funds will not achieve the intended outcomes. I hope the issues raised will spark a debate, but also help us to question our own values and work practices.
The way forward is clearly a deliberate shift from a theoretical trajectory, towards implementing a culture of accountability and excellence. Businesses should not just be measured by how much profit it makes or how popular it is trending, but the investment it also makes in human empowerment and development. We can change the course of our history by expecting and replicating basic human values of honesty, truth, right conduct, respect and citizenship. I believe we are at pivotal period, where poor practice and lack of institutional and personal integrity should be challenged and exposed. Investment should be made in skilling- up the workforce through training, monitoring and supervision at every level. As human beings let us not just strive to say the right thing, but do the right thing. In other works we should strive to match our words with complimentary actions. Without change there can be no improvement, but a reminder that not all change is improvement. We must therefore be deliberate and specific about working towards the highest professional standard to improve our work culture.
Contact Details: Lehona Owusu-Darko (Mrs), Proprietor of Beavers Academy (pre-school) and Founder of the Link Zone Foundation an NGO engaged in capacity building and development activities in Ghana. Email: [email protected] LinkedIn: www.linkedin.com/in/lehona-owusu-darko