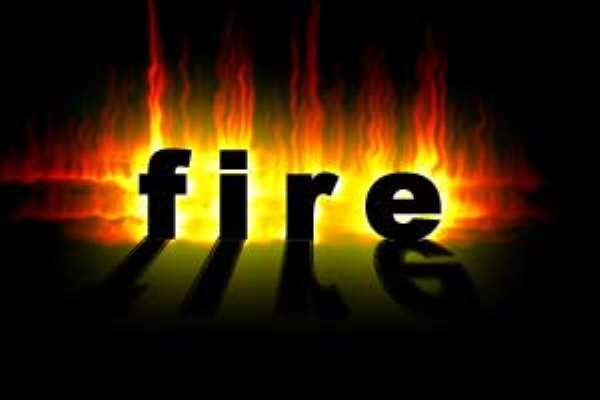 Chantan Fire Disaster
Felicia Duodo, the 30-year-old fishmonger, who together with her one-and-a half year old son sustained multiple burns when fire gutted their room at Chantan, a suburb of Accra on September 16, died last Saturday at the Korle-Bu Teaching Hospital (KBTH) where she had been on admission for a week.

The son, Augustine Tikwa, is however responding to treatment and hospital sources said he was expected to be discharged yesterday.
Felicia is the third member of the family to die after her husband, Kofi Tikwa, an auto sprayer, and their other son, seven-year old Ebenezer Tikwa died on the day of the incident.
The fire was said to have been caused by a lit candle placed close to the wooden structure that the family had used as accommodation for the past 10 years.
Personal belongings including a television set, sound system, two video decks, refrigerator, gas cylinder and cooking ware were among the debris of the completely burnt structure.
The source told Times that Augustine was getting well and would be discharged by the close of day but "he will be required to come for further check-ups and for the dressing of the wounds.
The source said that the discharge of the boy was upon the request of the relatives of the deceased mother who said they could not pay for the hospital bills.