Leave us alone! VALCO CEO tells politicians …says the company is vital to Ghana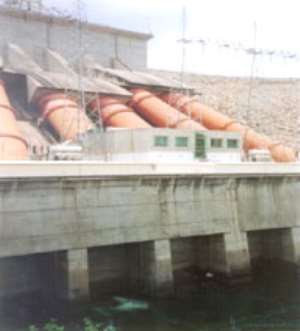 The Akosombo Dam
The Chief Executive Officer of the Volta Aluminium Company (VALCO), has expressed surprised about the kind of falsehood being peddled by some politicians, led by NDC on the operations of VALCO and asking for its closure.
At a meeting with the media over the weekend at Tema, Dr. Charles Mensah was shocked that a company whose replacement value is $700 million, with the kind of expertise, its benefits to the progress and development of Ghana's industrialization, among others should be treated as such. He has therefore warned politicians to "leave us alone so that we can do what we know best".
"We are not working for any government. We see this as a national asset and our people are passionate about this technology we have acquired and we have to do this for our growth. We will work and develop this technology here whether it's NPP, NDC, CPP or EAGLE.. Whoever runs the country is not our business, our business is to use the technology to industrialize Ghana".
The government of Ghana currently owns 90% of VALCO that was bought from Kaiser, the original owners of VALCO with the remaining 10% own by Aluminium Company of America (Alcoa). Dr. Mensah said looking at the government's percentage in the company, it should be very careful whatever decision it takes for the company, in order not to spell the doom of the country's industrial drive.
He emphasized, shutting down the company would not affect any of the local experts who were called from abroad to help the development of the country.
"If you close VALCO, you don't close us, this is a Ghanaian company and if you close it down, we have the experience we would go somewhere else to work… Ghana has acquired a technology and assets, if we want to use for our progress and development we can do so, if we want to shut it down it is up to us".
Mr Dan Acheampong, Director of Human Resources and Administration, VALCO said: "With 90% of the ownership of VALCO now vested in the hands of the people of Ghana, VALCO, through a viable integrated aluminium industry is set to become the lynch-pin in Ghana's rapid industrialization and sustainable economic growth and development for the long term good of Ghanaians".
He said the company currently receives 115 megawatts of electricity power, which represents 10% of VRA supplies to the country.
Mr Acheampong said VALCO has a rated capacity of 200,000 metric tonnes of primary aluminium annually and it is currently operating at 30% of its rated capacity.
On why Ghana needs VALCO, he said: "Smelter operations alone at full business potential, would inject $500 million into Ghana's economy… This is about 50% of the revenue from either the whole of cocoa or gold mining industry".
After the meeting, which sought to break the long-standing silence of the company over years, Journalists were treated with 45 minutes tour of the plant by the top officials of VALCO. ADM's reporter together with Mr Ransford Tetteh of the Graphic – the GJA President and Conrad Gyasi of Business and Financial Times were taken round by Mr Kwabena Amonoo-Niezer, the Area Staff Engineer Smelter Operations.