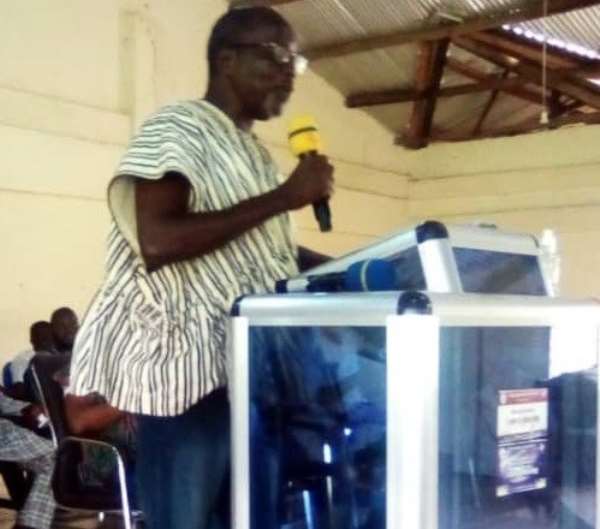 Professor Akabzaa Thomas
Professor Akabzaa Thomas, the Former Chief Executive Director for the ministry of energy returns home to lead the National Democratic Congress to campaign for the upcoming 2020 parliamentary and presidential elections in Bongo Constituency.
Introducing the campaign team, the constituency secretary Mr. Stephen Awinmakiya Nsobila explained that members of the campaign team are drawn from the 10 political zones in the constituency including, all past members of parliament, founding members of the party, all former government appointees, past parliamentary aspirants, constituency executives, constituency elections directorate, cadres, the youth wing, the women wing and other key members of the party.
In his acceptance speech, prof. Akabzaa, the campaign team chairman assures the party of victory come December 2020 as the campaign team is poised to salvage the suffering Ghanaians from the untold hardship and economic mismanagement. Prof. Akabzaa Thomas revealed the team will adopt an aggressive campaign strategy, the strategy of door to door to ensure the party wines over 100 polling stations out of the 120 polling stations in the constituency for NDC.
The Member of Parliament for Bongo constituency Hon. Edward Bawa also used the occasion to call on all constituents to vote massively for the National Democratic Congress come December 7th 2020 because the New Patriotic Party had failed Ghanaians with their 'heaven-on-earth' promises such as the free senior high school, one village, one dam, one district one factory and the one constituency, one billion United State dollars which were all scam. For his close contender, the NPP parliamentary candidate who doubles as the DCE of Bongo, Mr. Bawa stated that the indicators from the Unicef District League Table (ii) and the ranking of new entrants to the house of parliament is a clear indicating that he has outperformed DCE and will silence him come December 7, 2020.
Bongo constituency has been a safe seat for the National Democratic Congress since 1992 and in the upcoming elections, the seat is been contested by Hon. Edward Bawa of NDC, Hon. George Afari of PPP, Hon. Peter Ayinbisah of NPP and Hon. Richard Akama of GUM whose posters are pasted around the constituency though filing of nomination is yet be done.
Compiled by Patrick Anamoo- VEA DAM REPORTER(0245223979)