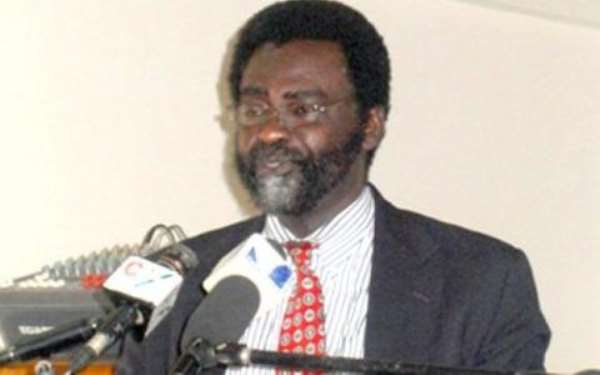 Amoako-Baah
Dr. Richard Amoako-Baah is smack on target to observe that Nana Addo Dankwa Akufo-Addo is partly to blame for the recent vitriolic "verbal" assault scandalously launched at his very person and the President's ethnicity by political barbarians and shameless common criminals and thieves like Messrs. Isaac Adongo, the Bolgatanga street thug and the National Democratic Congress' Member of Parliament for the hitherto war-torn Bolgatanga Central Constituency and former Mahama moneybag "Sakawa" Deputy at the Ministry of Finance, and former President John "Airbus-Kanazoe" Dramani Mahama. I don't know from which language the word "Sakawa" comes from, but I am almost certain that it is of northern Ghanaian origin and coinage and may have far more to do with the Agambire-Mahama Scam that criminally siphoned billions of cedis – actually gazillions of cedis – from our National Treasury (See "Akyem Mafia and Sakawa Boys Tag: Akufo-Addo Partly to Blame – Dr. Amoako-Baah" PeaceFM.com / Ghanaweb.com 9/11/20).
Sorry, Dear Reader, but I inadvertently cut myself off in the middle of the preceding sentence. What I really wanted to say here was that the ideational and cultural concept of "Sakawa" had far more to do with former President Mahama's criminally concocted Savannah Accelerated Development Authority (SADA), that siphoned more money from our national coffers than any other political caper or heist in postcolonial Ghanaian history, including the Alfred Agbesi Woyome-fronted GHȻ 51.2 Million that was divvied up among the front-row leadership of the National Democratic Congress. With SADA, even as noted in several of my previous columns, the sole measure of eligibility for being appointed as Executive Board Member of this veritably thievish Mafia Organization was one's northern ethnicity. You don't quite have this politically and socially benighted criterion with the Agyapa Royalties Investment Deal, though this is what boorish and strategically challenged and cheap-minded inveterate Akufo-Addo detractors would have the global Ghanaian community believe.
True, Dr. Amoako-Baah is darn accurate in his assessment that President Akufo-Addo's flagrant failure to rigorously prosecute his predecessor and former President Mahama's double-salary thieving cabinet appointees gave these savannah grassland monkeys and barbarians the audacity to believe that they could literally get away with both murder and the wanton pillage of our National Treasury. At the time, that is, a little over three years ago, several of us passionately pro-NPP commentators wrote and suggested that absolutely no amount of tearful pleas from the criminal likes of Mr. Haruna Iddrisu, the National Democratic Congress' Parliamentary Minority Leader, should move President Akufo-Addo off the righteous path of justice. And now, true to our prediction, we see a message-bereft and performance-record challenged Candidate John "Airbus-Kanazoe" Mahama resorting to the cheapest tactics, that is, name-calling, to achieve precisely what he patently lacks, by way of anything substantive, to show for his Dumsor-inflected unprecedented four-and-half-year tenure.
You see, when Divine Providence opportunely and auspiciously delivers your worst enemies into your hands, you do not inadvisably pretend to be smarter than your Maker. Leadership fortunes come with responsibilities. In cavalierly ignoring the sacred will of Divine Providence, Nana Akufo-Addo has come very dangerously close to committing political suicide. It is not too late to backtrack and give justice a fair chance to healthily prevail in Ghanaian political culture. It is highly unlikely that a deep-thinking Ghanaian electorate would make another egregious blunder of returning the most irredeemably corrupt postcolonial Ghanaian leader, in the memorable words of Chairman Jerry John Rawlings, to Jubilee House, with the patently infantile objective of correcting "my past mistakes." How stupid and absurd!
Still, Nana Akufo-Addo may be making the greatest blunder of his political career, if the former Attorney-General and Minister of Justice thinks that he can pursue a healthy national development agenda devoid of the dogged promotion of justice and fair play. The most relevant Akan proverb to remind the former New Patriotic Party's Member of Parliament for Akyem-Abuakwa-South of, is the following: "When you play with dogs/pugs, you wake up with fleas." Akufo-Addo ought to never have flirted with the "Oprah Winfrey Effect." He has to be fair and firm. Not blind to bribery and corruption.
*Visit my blog at: KwameOkoampaAhoofeJr
By Kwame Okoampa-Ahoofe, Jr., PhD
English Department, SUNY-Nassau
Garden City, New York
September 13, 2020
E-mail: [email protected]