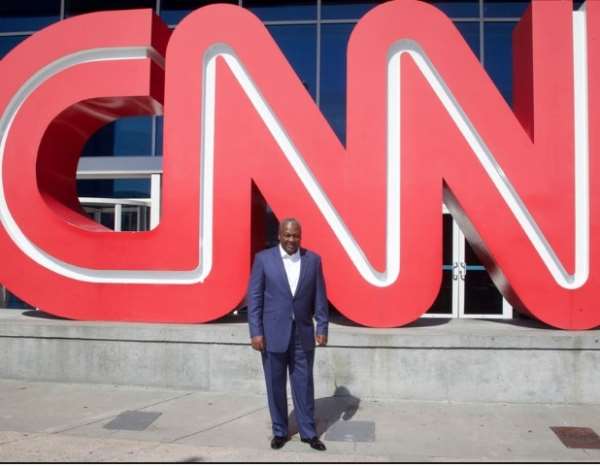 My Ghanaian compatriots, it is just right, and obligatory, that I explain to you the reasons for initiating the movement "Operation Dump Mahama". You will all bear me out that Ghana is in the dead of an election year, to elect our president and parliamentary representatives for the next four years. We entrust our safety, protection, wellbeing, and the development of our nation and the protection of its sovereignty into the hands of the government, in which case, it is the elected leaders. Therefore, there must be a set quality standard to use as a yardstick to measure those that we vote to elect to manage the affairs of the nation for our common good.
It is obvious that nobody can build Ghana better for Ghanaians than Ghanaians themselves. So also, can nobody build continental Africa to a satisfactory level that will accord us respect and recognition as sensible beings in the eyes of our contemporary whites than Africans themselves. By this principal consideration, it is just imperative that we choose persons of integrity, dedicated to be of service to Ghana and Ghanaians, dynamic, visionary, analytical in their thinking, selfless, incorruptible, believe in themselves and their policies and dreams to lifting Ghana out of the dark abyss in which it is deeply embedded for almost all these past years of her political independence from the British colonialists in March 1957.
It is not by our dark skin colour that our contemporary whites are tempted to see us as subhuman but by our deplorable behaviours that militate against the exploitation and enhancement of our unlimited potentials for our own good, if not for the benefit of the worldwide humanity.
History has it that the Caucasians (European and American whites), used to mock the Japanese and the Chinese as short people of yellow colour with squinted eyes. However, when the Japanese and the Chinese exceedingly prospered technologically economically, the Caucasians now respect them and tease them no more. They see and treat them as their co-equal. Therefore, it is not the height, colour of the skin or in which continent one lives that he will be respected or not, but the intelligence of that person to making a positive impact on people globally.
Therefore, it is the impact that Ghanaians as black people or Africans make on themselves to better their standard of living and by extension contribute to the wellbeing of humanity as done by the Chinese and the Japanese that will make us appear in the eyes of our continental neighbours as rational human beings worthy of recognition and respect.
Subsequently, we need a farsighted leader with big dreams to make Ghana and Ghanaians great. We need a leader who dreams big and aims higher. Is it not said, in your quest to prosper aim higher, thus, aim at the sun and if you fall you fall on to the moon but if you aim at the moon and you fall, you fall on to the earth?
Between President cum presidential-candidate Nana Addo Dankwa Akufo-Addo and former President cum presidential-candidate John Dramani Mahama, there is a vast ocean of differences between them when it comes to who has the action plan to lift up Ghana from her socio-economic stagnation, if not retrogression. While Nana Addo sees mass formal education of Ghanaians as a means of having a solid human resource base; having programmes, policies and answers to achieving that purpose, John Mahama sees mass education of Ghanaians as irrelevant. While Nana Addo sees the ultimate undeniable benefit of the air that we breathe, the water bodies that we drink from and the fertile lands that we feed from hence taking measures to stop the illegal surface mining (galamsey) that was, and is still, devastating the nation's air, water bodies and lands, John Mahama has promised to give his blessings to uncontrollable galamsey activities in Ghana.
While Nana Addo is not personally corrupt and refers any appointee of his to the appropriate institutions to be investigated when they are accused of corruption, John Mahama is personally corrupt and promotes or moves any of his appointees accused of corruption to other departments or ministries without causing investigations into their circumstances.
While Nana Addo has instituted and continues implement and give birth to policies and programmes tailored to making Ghana self-sufficient in our basic needs, waning us off dependency on foreign aid, hence his "Ghana Beyond Aid" mantra, John Dramani Mahama has not envisioned any such policies and programmes but infantile populist ideas and policies.
From the above, it is just right that a movement has been formed to educate and sensitize Ghanaians to the problems debilitating Ghana as a nation, and how best, and by which two of the aspiring candidates, has a viable solution to them.
Any discerning Ghanaian that believes in long term, but not short term, solutions to our woes, knows that Nana Akufo-Addo, the sagacious septuagenarian, is much better placed than the sexagenarian John Mahama.
Therefore, the aim of the "Operation Dump Mahama" movement is to get the Ghanaian electorate to vote for Nana Akufo-Addo, he who has the key in his hands to unlock the doors of prosperity, development and respectability for Ghana and Ghanaians as has been bestowed on him by God. The members of the movement will tell Ghanaians the truth, but not lie to them as Mahama has personally asserted on video that he will lie to the electorate to get their votes if such lies will convince them to vote for him.
The objective of the movement is to see Ghana continue to be the torchbearer of Africa by taking herself out of the denigrating economic woes, but catapulted into the sphere of socio-economic prosperity same as attained by the Chinese and Japanese, to put a stop to the ill-treatment of black people because of our lack of contribution towards making the world a better place to live in but our abundance of roguish behaviours.
Should Ghana succeed alongside Rwanda, there will be no more black Americans suffering racial-profiling racism and death as it is currently the silent disgraceful ongoing norm in the United States of America, as exacerbated in the Trumpian era of fascism and xenophobia.
Stay tuned for more positive directions from the Founder of "Operation Dump Mahama".
Every discerning Ghanaian worth their salt is an automatic member of the movement. In unity, we stand to attain our objective but in division, we fall only to be pecked on by some greedy human vultures both inside and outside Ghana.
With God on our side, we shall succeed in getting Nana Addo re-elected come 7 December 2020. The battle is the Lord's!
Rockson Adofo
Monday, 14 September 2020